I'm sure you'll agree with me that:
1. It's tough to find stores that sell anime t-shirts.
2. When you're about to come to Japan, one of the things you want to buy most are cool T-Shirts of your favorite anime.
It turns out that even in Japan it's not easy to find Anime T-Shirts, but don't fret. I already found the best stores where you can buy tees of:
Dragon Ball
Naruto
One Punch Man
Sword Art Online
Steins; Gate
One Piece
Etc.
In this post, I'll tell you the best of the best.
5. Animate
You may have already heard of Animate. It is one of the biggest Anime stores in Japan. In Animate, you can find tees of Code Geass, My Hero Academia (Boku No Hero Academia), Steins; Gate, etc.
Besides T-shirts, you'll also run into Anime hoodies.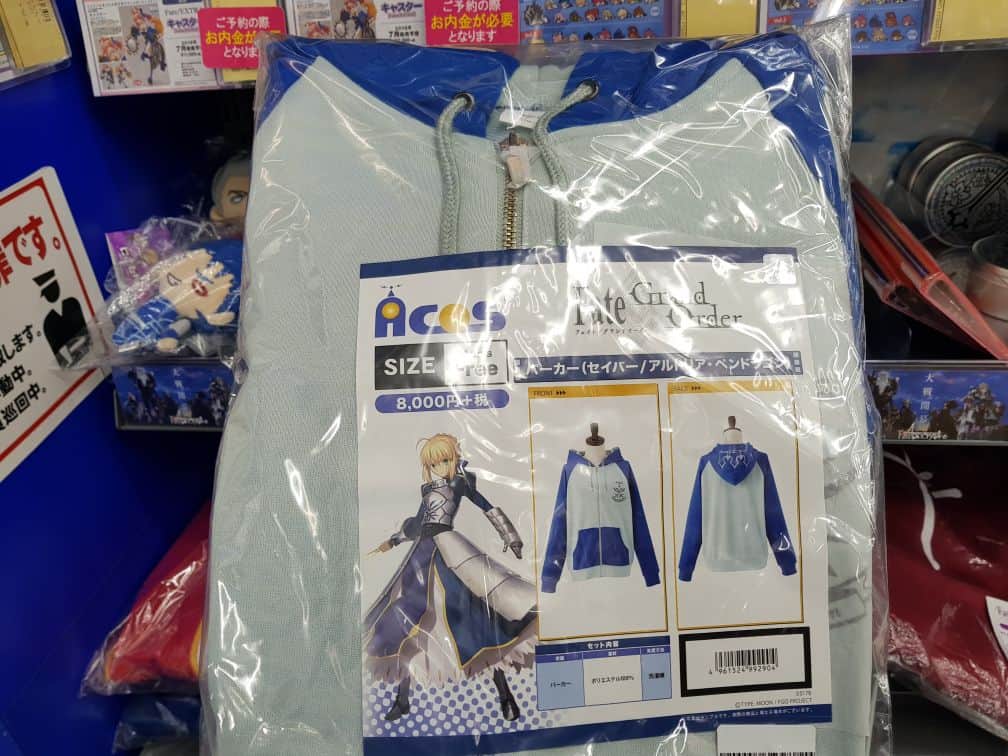 Although the shop has merchandise of hundreds of different anime, the variety of tees and hoodies is a bit limited.
Animate has several branches throughout Japan. For example, it has stores at Otome Road, Shinjuku, Shibuya, etc.
On the official Animate website (only available in Japanese) you can find all the stores open in Japan.
4. Jump Shop
This is my favorite Anime goods store.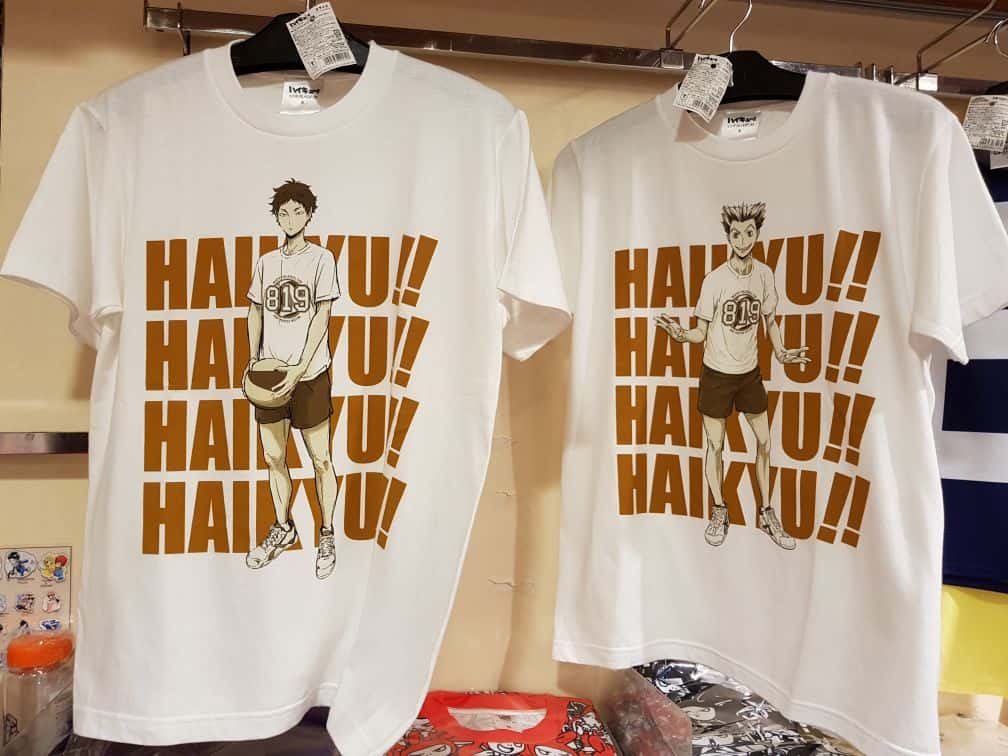 They have branches in Tokyo, Fukuoka, Yokohama, Nagoya, Osaka, and many other cities. Jump Store is a store with hundreds of products from Shueisha's anime.
They sell cool T-shirts of Dragon Ball, Naruto, Bleach, One Piece, D-Gray Man, Saint Seiya and other anime from Shueisha.
They even have T-shirts of Slam Dunk!!!!
The tees in the Jump Store have fantastic designs and good quality.
You'll come across a vast variety of iconic products from Shueisha's Jump manga and anime.
For example, they sell Luffy Straw Hat, the Senzu bean, Boku no Hero Academia mugs, etc.
In Tokyo, they have branches in:
Tokyo Dome
Skytree
Tokyo Station (Character Street).
Here you will find the address of every store. Don't forget to use Google Translate since the page is only in Japanese.
3. UNQLO
You have undoubtedly heard of UNIQLO(ウニクロ). It is probably the biggest clothing company in Japan.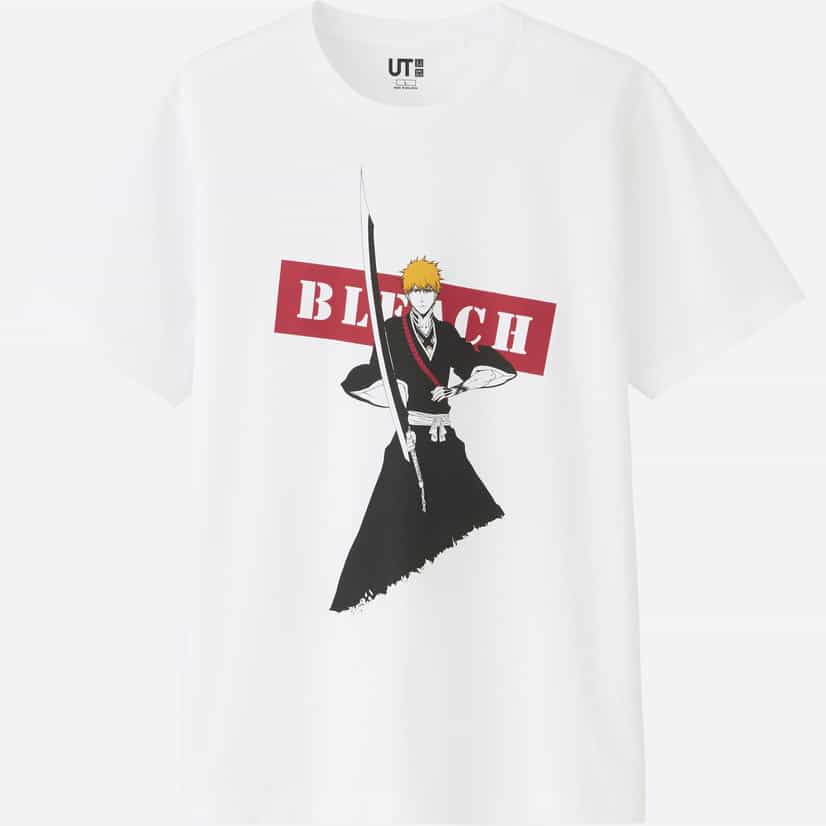 Currently, UNIQLO is selling tees of:
One Piece
Gundam
Street Fighter
Hunter X Hunter (sale starts on May 27th)
Bleach (sale starts on May 27th)
My Hero Academia (sale starts on May 27th)
Naruto (sale starts on May 27th)
Inuyasha (sale starts on May 27th)
and may more
The best part is that they are pretty cheap, only 10 USD!
UNIQLO has hundreds of stores throughout Japan so it will not be difficult to find one.
Note: UNIQLO doesn't sell Anime T-shirts all year, so if you go they might not be on sale.
2. Cospa Akihabara
Located in Akihabara, in Cospa Akihabara you can find amazing T-Shirts of:
Fate series (Fate Stay Night, Fate Apocrypha, etc.)
Girls und Panzer
Sword Art Online
Puella Magi Madoka Magica
Etc.
They even sell the Cosplay of Saitama from One Punch Man!!
Location:
Nearest station: 5 minutes walking from Akihabara station.
Working Hours: 11:00 – 20:00
In English: 1 Chome-10-11 Sotokanda, Chiyoda, Tokyo 101-0021
It's on the fourth floor of this building.
Note: COSPA also has a store located in Terminal 1 of Narita Airport.
1. Cospa GEE! Store
There is no doubt that the best store to buy Anime T-Shirts is GEE! Store.
GEE! Store has an immense diversity of Anime T-shirts with extraordinary designs.
You will find T-Shirts of:
One Punch Man
Yu Gi Oh
Gintama
Tokyo Ghoul
Overlord
Cowboy Bebop
Gundam
Steins Gate
Detective Conan
Etc.
They even have T-Shirts of Psycho-Pass and Menma from Ano Hana.
There also have goods from Kizuna Ai, Japan's most famous virtual youtuber.
If you are looking for Dragon Ball, Naruto or One Piece T-Shirts don't worry. GEE! Store has you covered with the most of any of these stores.
And yes, there's also tees from Steins: Gate. In GEE! Store I bought a shirt of Makise Kurisu, my favorite female character.
Likewise, you will find Anime Cosplay Costumes, key chains, mugs, etc.
If you want to try a T-Shirt, you have to ask a staff member first. They have T-shirts that you can try on.
Don't forget to ask for the GEE! Store card, as they will give you points for every 500 yen that you spend with cash or every 1,000 yen if you pay with a credit card.
By the way, they don't offer tax-free or returns, so be careful and make sure you'll wear it!
Cospa Gee! Store has two locations in Akihabara.
Store 1 (same building as COSPA AKIHABARA)
Closest Station: 5 walking from Akihabara Station
In English: 1 Chome-10-11 Sotokanda, Chiyoda, Tokyo 101-0021
Store 2
Closest Station: 5 walking from Akihabara Station
In English: GEESTORE AKIBA.2F,3-15-5 Sotokanda Chiyoda-ku Tokyo
GEE! Store is located on the second floor of this building.
GEE! Store also has branches in Shibuya, Osaka (DenDenTown), Nagoya, and Fukuoka. You can find more information here.
BONUS: If you are looking for Evangelion T-shirts, the best place to find them is at the official store located in Fuji Q Highland or Ikebukuro.
Recommendation
Usually, the stores only sell merchandise of trending anime.
For example, I have been living in Tokyo for more than three years, and somehow I have never found Full Metal Alchemist, Death Note or Monster T-Shirts (pretty disappointing isn't?).
My best advice for you is to go to the stores that I mentioned before. If you don't find the anime of your preference, buy it online (believe me, it took me a while to find these stores).
There are more designs in an online store.
For example, if you are looking for the Saitama's hoodie that says Oppai (boobs in Japanese) or a Full Metal Alchemist T-Shirt, an online shop will be your best ally.