Let me guess, you are in Osaka looking for anime spots or attractions.
Well, you're on the right post.
Today, I'll show you the best anime spot in Osaka.
The best part?
It is completely FREE.
What is Nipponbashi (DenDenTown)?
Nipponbashi, known colloquially as "Den-Den Town," is a small outdoor shopping district. In a few words, it is the best geek spot in Osaka, Japan.
Compared to Akihabara, Nipponbashi is smaller so you won't get lost!

Access- How to get there?
The closest stations are:
Ebisucho station (Sakaisuji Subway Line)
Nipponbashi station (Sakaisuji Subway Line, Sennichimae Subway Line).
How to get from Dotonbori to DenDenTown?
It is a 14-minute walk (south) from Dotonbori to DenDenTown. No, you don't need to take the metro!
Working hours
Most of the stores open from 10 am to 9 pm.
What is the best time to visit Nipponbashi?
It doesn't matter, any time is a good time to visit.
Where can I find a coin locker?
If you hate carrying things around (like me) and want to leave your stuff while doing some "otaku shopping" you can leave it in a coin locker.
You can find some inside Nipponbashi station.
If you are struggling to find one, you can show the following question to any metro staff:
コインロッカーはどこにありますでしょうか?
coinlokka ha doko ni arimasudeshouka
Where are the coin lockers?
Where to find currency exchange and/or ATM?
Here are two currency exchange stores:
Currency Exchange Kong, it is a 1-minute walk from the Namba station's C1 exit.
Address: 〒542-0076 Osaka, Chūō-ku, Nanba, 3-chōme−8, 中央区難波5
Currency Exchange OSAKA NIPPONBASHI
Address: 5-chōme-9-12 Nipponbashi
As for ATM, there are plenty around DenDenTown. Just search for "atm 日本橋大阪" and Google will show a lot of results.
If you don't have internet, ask one of the metro's staff:
一番近いATMはどこですか?
ichiban chikai ATM ha dokodesuka
Where is the closest ATM?
Don't forget that many stores in Japan don't accept credit card, so bring a lot of cash.
How much money do I need?
It depends on what you want to buy. If you are looking for Anime Figures and cosplay you will need a bigger budget.
How much time do I need?
All up to you, you can spend anywhere from 1 hour to a whole day visiting stores & doing shopping. 
If you have already visited Akihabara in Tokyo, I think that one or two hours will be enough. Remember, Akihabara is bigger and I think you'll have more luck finding bargains there.
What can I expect from DenDenTown?
Anime & manga stores (figures, keychains, etc)

Maid cafe

Electronics

Restaurants

Retro video games

Gashapon (Japanese toy capsule)

Anime themed cafe
In other words, a variety of stores and a lot of fun!
Where to find cheap anime figures?
You will find a lot of stores selling anime figures and anime goods. The prices can range from  1,100 yen (10 USD) to 30,000 (274USD). It depends on the quality of the figure.
My advice is to check a lot of stores before buying anything.
You can find the same product in a different store at a lower price.
Compare prices before buying anything! Don't get antsy!
One store that drew my attention was Torejara, because I found some figures of "old" anime like Bleach, Shaman King and Death Note.
Also, I found second-hand Saint Seiya figures for around 4,000 yen (36 USD)
You can also find cool anime merchandise in Animate's building. Lashinbang, Melonbooks, and C-labo are stores you can find in the same building as Animate.
What is the best retro video game store?
Super Potato!
*Super Potato has stores in Tokyo, Nagoya, etc. You can find more information on their official website (only in Japanese).
Address: 〒556-0005 大阪府大阪市浪速区日本橋3-8-18 平田ビル1階
Where to buy Anime T-shirts?
The best place to find Anime T-shirts in Osaka is definitely GEE! Store.
You can find T-shirts of:
Love Live!

Re: ZERO

Dragon Ball

One Piece

Naruto
And more!
Address: 7-7 Nanbasennichimae, Chuo Ward, Osaka, 542-0075, Japan
If you are in Tokyo and want to buy some t-shirts, you need to check it out this post:
Where to find cosplay costumes?
You can also find cosplay at GEE! Store. For example, I ran into Rem & Ram's cosplay from Re: ZERO.
Anime events in DenDenTown
The most important anime event that takes place in Nipponbashi is Nipponbashi Street Festa. It has been held once per year in March.
Anime Themed Cafe
There is one cafe called Good Smile × Animate Cafe Osaka Nippombashi. The cafe is decorated with a different anime every month.
This month, the cafe is filled with Tsukino Paradise decor and next month it'll be World Trigger's turn!
Address: Japan, 〒556-0005 Osaka, Naniwa-ku, Nipponbashi, 4-chōme−4丁目15-17
Where to buy manga?
The biggest stores to find manga are:
Comic Toranoana
Comics
Melonbooks
Where to buy cheap collectible card games?
There are a lot, believe me, a lot of collectible card's stores in Nipponbashi.
You will spot one every 50 meters!
Some of them are:
HobbyStation

Torekamania

Dragonstar

C-labo
The best one?
As I mentioned in the Anime Figures section, check a lot of stores before buying anything.
You can find the same card in a different store at a lower price.
Compare prices before buying, don't get antsy!
Some of the popular trading card games you will spot are:
Magic: The Gathering

Pokémon

Duel Masters

Dragon Ball Heroes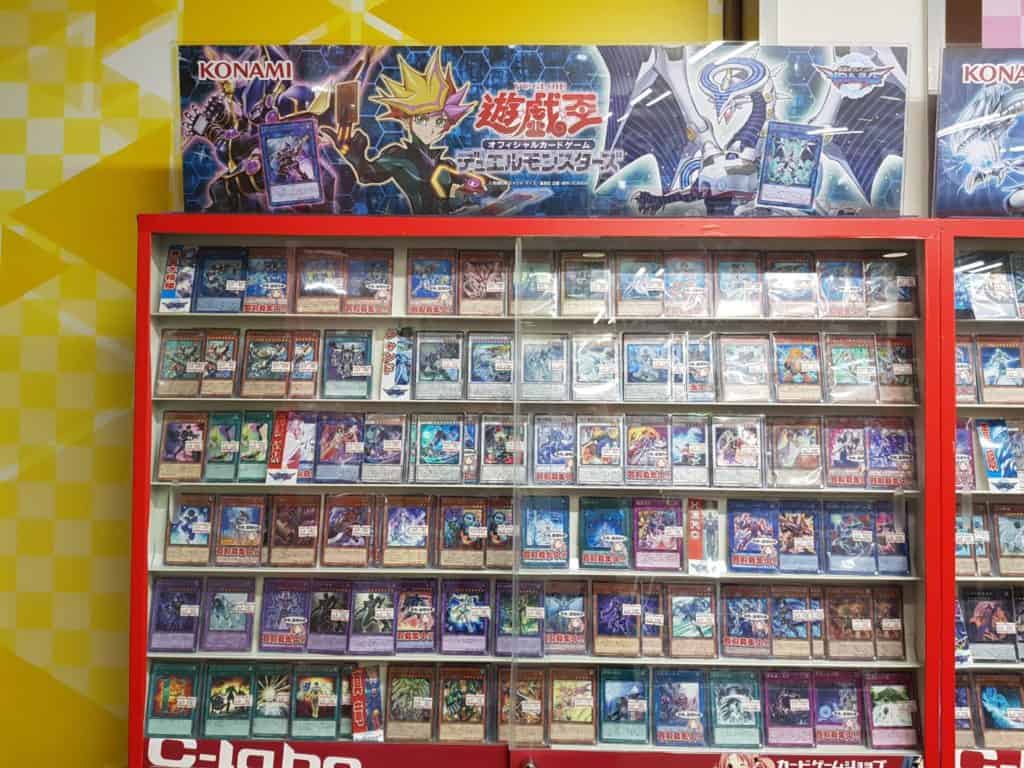 Also, you'll be surprised to hear you can also find cards of:
Code Geass
Shingeki No Kyojin (Attack On Titan)
KonoSuba!
Detective Conan
Fate/Apocrypha
and more!
They also sell deck protector sleeves of Puella Magi Madoka Magica, Goblin Slayer and more!
Remember that most of the cards are in Japanese. I couldn't find cards in English. Let me know in the comments below if you know a store that sells them.
Where to buy board games?
One of the Yellow Submarine stores sells a lot of different board games.
You can even find a board game of Gundam!
*Note that most of the board games are in Japanese.
Access: Japan, 〒556-0011 Osaka, Naniwa-ku, Nanbanaka, 2-chōme−1−3 川合ビル
Gashapon (Japanese Toy Capsule)
Walking around DenDenTown you will spot a Gashapon machine outside almost every store.
You can find gacha of Kaguya-sama, That Time I Got Reincarnated as a Slime, Dragon Ball, etc.
Video game themed convenience store
One Lawson convenience store is Dragon Quest themed. The walls and floors are covered in Dragon Quest Builders decorations.
If you can't go to Osaka, there is also one in Akihabara, Tokyo..
Btw, If you love Square Enix, check out this article:
Where to buy non-japanese anime products?
In that case, you are in the wrong country! 😛
There is a store called Astro Zombies where you can find official merchandise of Marvel, DC, Disney, and other non-japanese series.
Access: 3-chōme-6-9 Nipponbashi, Naniwa-ku, Osaka, 556-0005, Japan
Maid cafes in Nipponbashi
Aside from anime stores, you can also find Maid Cafes.  Parlante, Maidreamin & Cocha are some of them.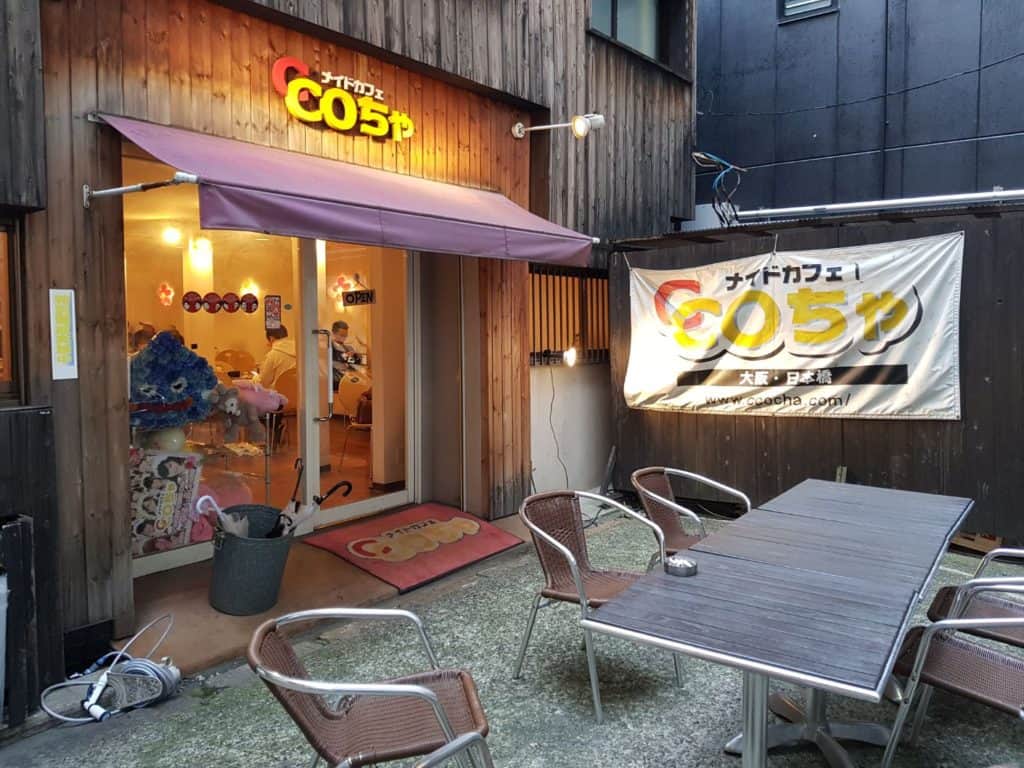 What to eat in DenDenTown? Any vegetarian place?
You can find Takoyaki, Hamburgers, Kebab, etc.
My recommendation is to try Ebiyaki (shrimp balls)!
It's exactly the same as Takoyaki but instead of octupus it's shrimp inside.
Try it!!! If you're like me and don't like octopus you MUST try ebiyaki,
So far this is the only restaurant where I could find Ebiyaki in Japan. 
Access: 3-chōme-8-14 Nipponbashi, Naniwa-ku, Osaka, 556-0005, Japan
I couldn't find a good restaurant for vegans and vegetarians. But, there's a Family Mart in the middle of DenDenTown so you can buy things like rice balls (onigiri) and fruits. If you know any good restaurants, let me know in the comments and I will add it.
Any cafes?
Yes, try out Ookini Coffee.
My travel buddy doesn't like anime, what should I do?
Dotonbori is one of the biggest attractions in Osaka, he/she can go there while you're walking around Nipponbashi.
It's just a 14-minute walk.
Another spot nearby is the Kuromon Ichiba Market.
What should I do after visiting DenDenTown?
Walk north for 14 minutes to get to Dotonbori.
Or, you can go to Umeda. It's a nice place to visit and there's also a Pokémon Center there.  Umeda is around 30 minutes by train.
Is it worth it?
If you're in Japan for fewer than 10 days, I wouldn't recommend you go to Osaka. I think that splitting the days between Kyoto and Tokyo would be wiser.
If you happen to be in Osaka, pay it a visit. The place is worth going on its own, and you will have a lot of fun.
That said, if you already did a lot of anime tourism in Tokyo, like visiting Akihabara for example, I wouldn't recommend going,
It's like a very small Akihabara.
Is there something that I forgot to add in this guide?
How was your experience at this anime spot?
Let me know in the comments below 😀