Death Note in Japan [Real Life Locations, Exhibition & more]
Looking for Death Note related stuff in Japan?
Keep reading 😀
In this post, I will tell you the location of popular places and landmarks featured in the animated series. Also, I'll be telling you about the Death Note exhibition that is taking place in Tokyo right now.
All of Death Note's connections to the real world can be found right here.
Death Note is a manga and anime series created by Tsugumi Ohba and illustrated by Takeshi Obata.
Together with Code Geass, Full Metal Alchemist, and Steins; Gate, it is one of the most popular anime of all time, so if you haven't watched it yet, you need to!
Real Life Locations (Anime Pilgrimage)
Death Note takes place in Japan and there are some real-life locations from the show that you can visit there.
Kira & Raye Penber
In episode 5, at Shinjuku Station, Light met Raye Penber, an FBI agent who was investigating Light Yagami.
These scenes were created in 2007 and it is fantastic that the same restaurants are still there.
Here is another picture of Light talking with Raye Penber in front of Lotteria.
Address: 西新宿1 西口地下街1号 Shinjuku
Note: 10 minutes by foot from this spot, there is also a Code Geass real-life location. 
Naomi Misora & Light
After the death of her fiance, Naomi Misora began her own investigation and walked to Kira Task Force Headquarters to talk with L (Ryusaki)
This building exists in real life.
If you want to visit it, take the train to Kasumigaseki Station and get out in exit A2. Once you go out that you will see the National Public Safety Commission (国家公安委員会).
Inside the National Public Safety Commission is where she met Light.
There is a security checkpoint right after you enter the building, which is why I couldn't take pictures inside the building.
That said, I can tell you that the inside is a bit different from the one portrayed in the anime.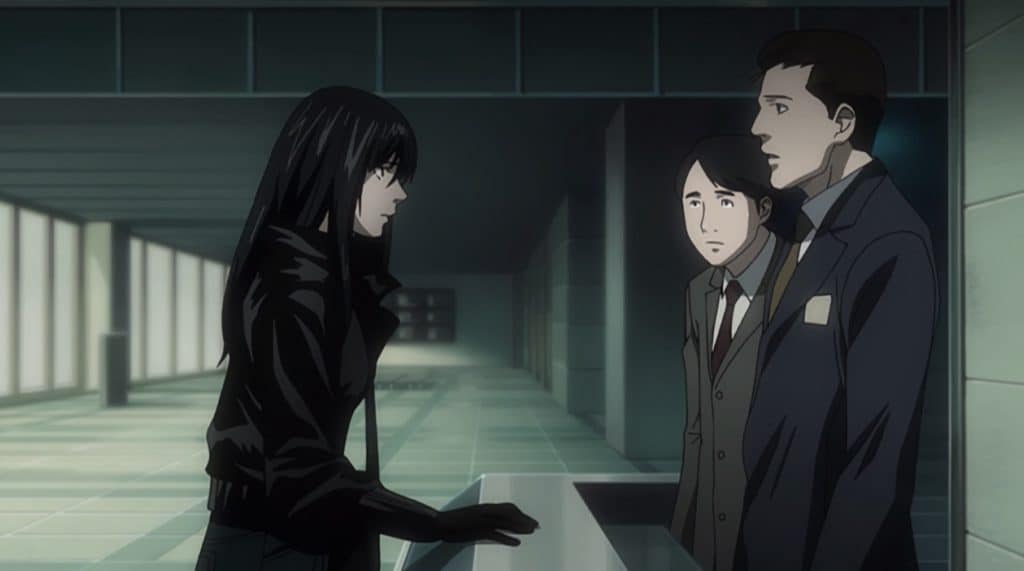 After a brief chat, Light and Naomi left the building. Then, Light figured out that Naomi was the fiance of Raye Penber.
If you want to relive the exact moment where Light and Naomi were talking, walk from National Public Safety Commission to Hibiya Park.
While you are heading to the park you may recognize the following locations:
I've seen a lot of anime and this is one of the best episodes I've ever watched. I was really excited when I did this pilgrimage.
These scenes were created in 2007 and after more than 12 years, you can see the street still looks almost identical.
After walking for 5 minutes you'll see Hibiya Park's entrance.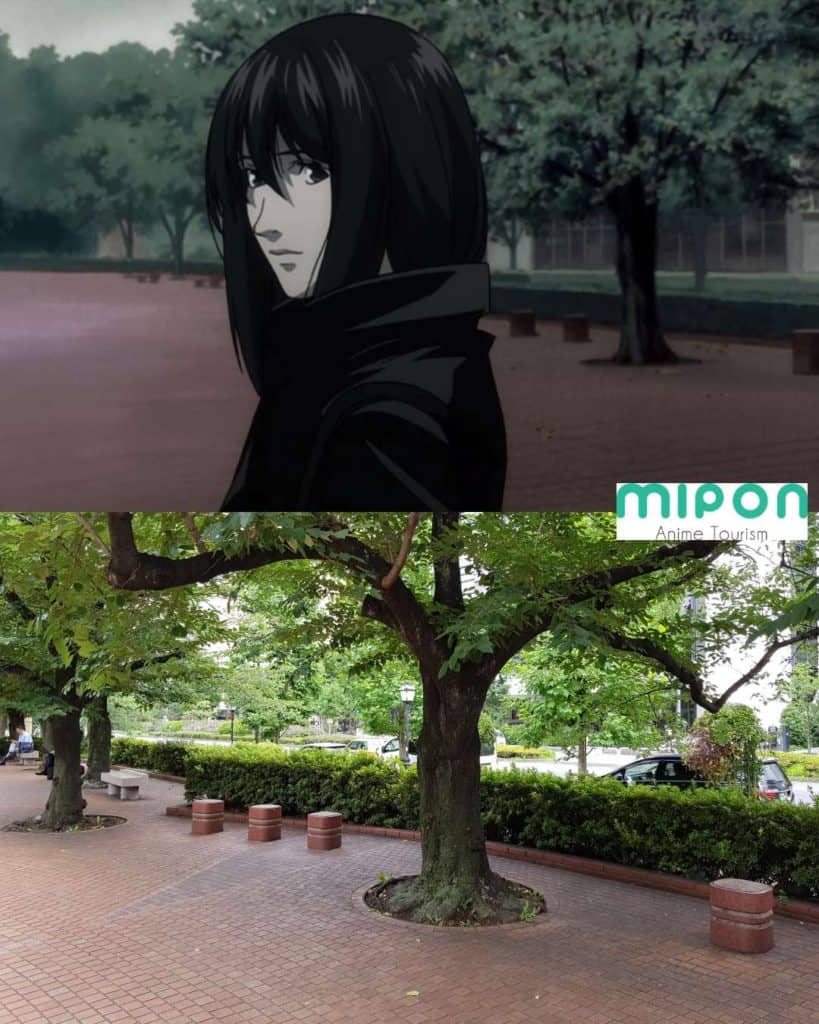 Kira and Misora walked to Hibiya Park and then went back to the National Public Safety Commission.
Outside the National Public Safety Commission is where Light told her that he was Kira.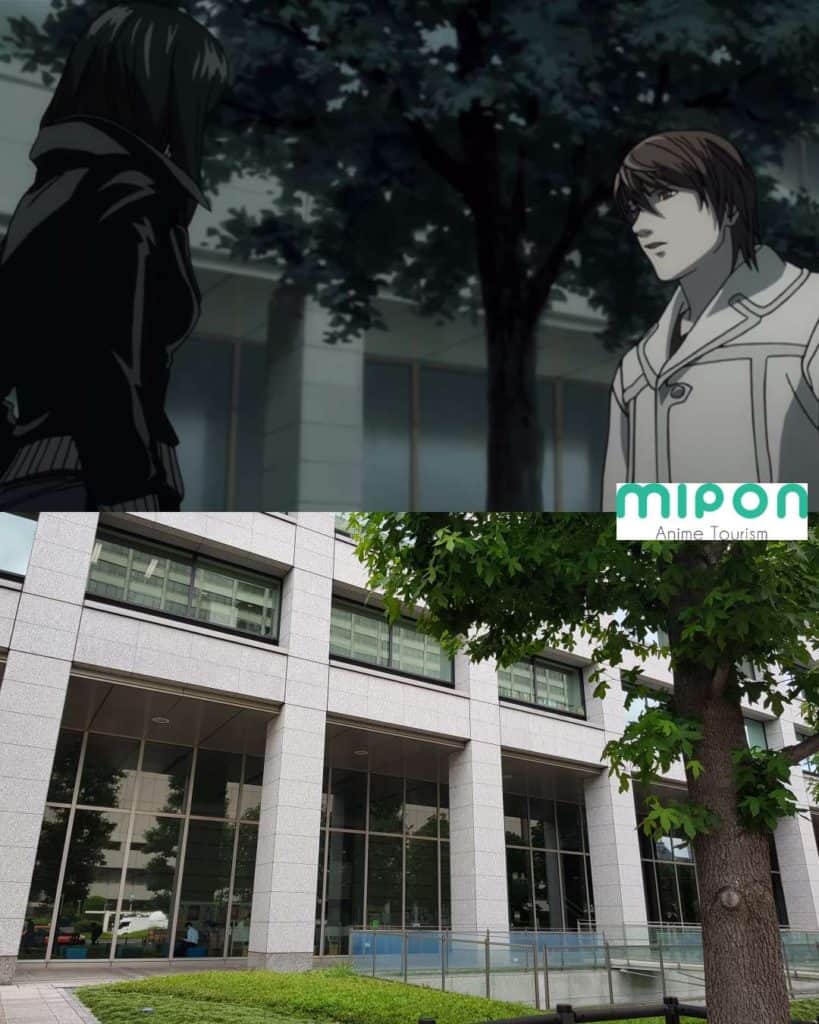 Here is where Kira was writing Naomi's name in his Death Note.
Address: 2-chome-1-2 Kasumigaseki, Chiyoda-ku, Tokyo-to 100-0013, Japan
Imperial Hotel
Finally, while Light was talking with Misora, Soichiro Yagami (Kira's father) and the other members of the Kira Task Force were meeting L for the very first time at the Imperial Hotel in Tokyo.
Death Note Exhibition
From July 13 to August 12, there will be an exhibition named "30th Work Anniversary Takeshi Obata Exhibition: Never Complete" with the main works of Takeshi Obata (the illustrator of Death Note, Bakuman, etc).
Here are some things that you'll need to know before going to the exhibition:
Everything is in Japanese.
You're not allowed to take pictures or talk on the phone.
You can't pay with a credit card at the ticket counter. Only with cash.
You'll need to queue for around 20 minutes before entering the store.
You can enter the store, but you're not allowed to buy anything if you don't have your ticket. They'll ask to see your exhibition ticket before you pay.
The time needed is about an hour and a half (including the 20-minute queue to enter the store.).
Some pictures of the store: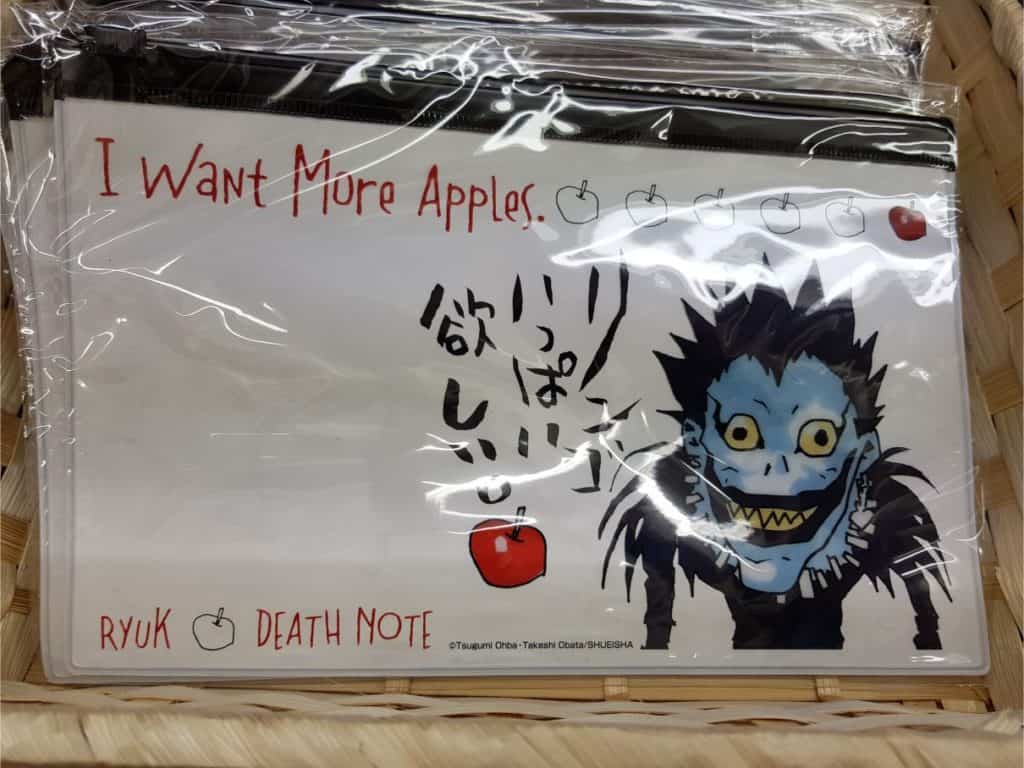 4 years living in Tokyo, this is the third time that I found a T-shirt of Death Note.
IMPORTANT: The main reason why I went to the Exhibition was that I wanted to buy the new one-shot manga of Death Note. So, I slipped out of the exhibition early and went straight to the store to buy the manga. When I was at the store, I was looking for the manga but they told me that it wasn't for sale. The manga is exclusive material readable only inside the exhibition itself. I couldn't go back to the exhibition to read it because I had another appointment, too bad. I need to go back and read the chapter in Japanese. If you go the exhibition make sure to check out the new manga of Death Note.
The new one-shot manga is a completely new story. Here are some pictures:
Review:
I love Death Note. It's the show that first got me into the world of anime. Aside from the anime real-life locations, there are no Death Note attractions in Japan.
Also, it's so hard to find t-shirts or merch of Death Note these days.
We finally had something about Death Note in Japan and I was so disappointed that we weren't allowed to take pictures. There was a fantastic Death Note illustration with all the main characters (Kira, L, Mello, Near, Amane Misa, etc) which I wanted to take a picture of but it wasn't possible.
Something else that I didn't like was that the new manga was not for sale! And the store wasn't bad but only one T-Shirt of Death Note? Come on, I wanted more designs.
I speak Japanese so I didn't have a problem reading the content in the exhibition but as for non-Japanese speakers who love Death Note I don't think they'll be able to enjoy the exhibition as much.
Go if you really love Death Note and you want to buy some merch. Otherwise, I'm not sure if I'd recommend this exhibition to a non-Japanese speaker.
Address: 6-chōme-11-14 Sotokanda
The closest stations are:
2 minutes from Suehirocho exit 4
6 minutes from Akihabara JR station.
More information on the official website,
Bonus: Where can I watch Death Note?
After reading this article you might want to rewatch or you might be wondering where you can pick up the show for the first time. Don't worry I got you 😀
At the time of writing this post, you can watch it legally on:
If you know any other place where you can watch it legally, let me know in the comments below.
I'll keep updating & adding to this post with more information about everything that you need to know about Death Note in Japan.
—
Keep checking back to this blog for new content and don't forget to follow me on Twitter and Instagram.
Now I'd like to hear from you:
Who do you think is smarter, L or Kira?  Did you like Netflix's live-action adaptation?
Either way, let me know by leaving a quick comment below.
Note: If you looking for anime like Death Note,  I recommend Code Geass, No Game No Life, The Irregular at Magic High School, Monster, and Psycho-Pass.