Steins;Gate Cafe in Tokyo
Are you a big fan of Steins;Gate and are you visiting (or living in) Tokyo?
Then you NEED to keep reading!
I'll show you the real-life location of the restaurant that is featured in Steins;Gate.
Also, I'll tell you everything that you need to know before going.
Steins;Gate is one of my favorite anime and I enjoyed every second visiting this anime cafe. Don't miss the opportunity to go if you're in Tokyo.
You'll feel like you're living in the anime!
Description
May Queen Nyan-Nyan is the Maid Cafe where Mayuri and Faris Nyannyan work. In real-life the name of the cafe is Cafe Mailish.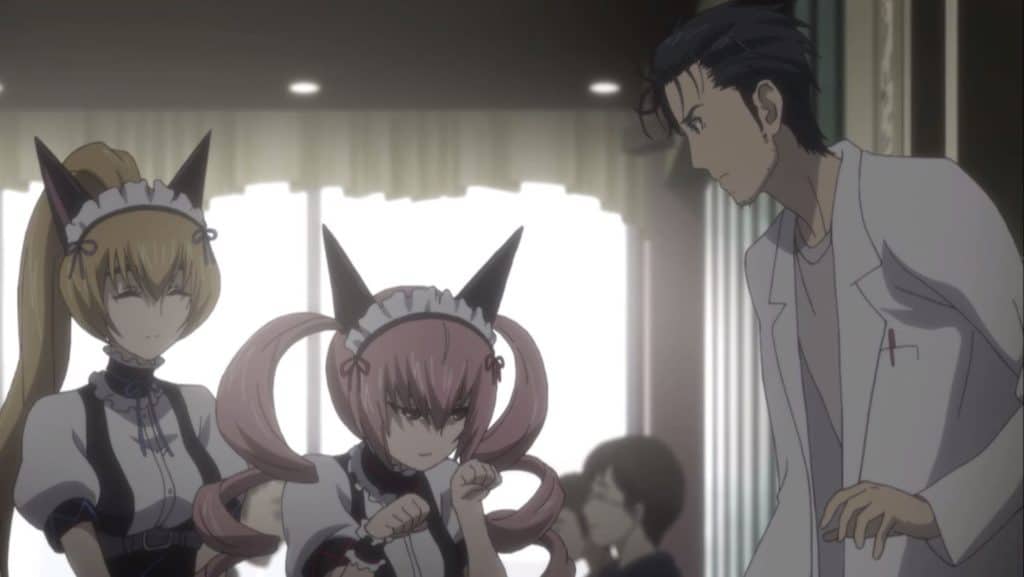 The anime cafe is located in Akihabara, Tokyo and it is one of the best things to do if you love anime tourism.
Cafe Mailish looks almost identical to May Queen in the anime.
They have a big stuffed Metaru Uppa!
And during your visit you can borrow the manga of Steins;Gate and Steins;Gate 0.
The waitresses are dressed up like Mayuri and Faris. Remember, is not allowed to take pictures to the waitresses. If you want to take a picture with them you need to pay.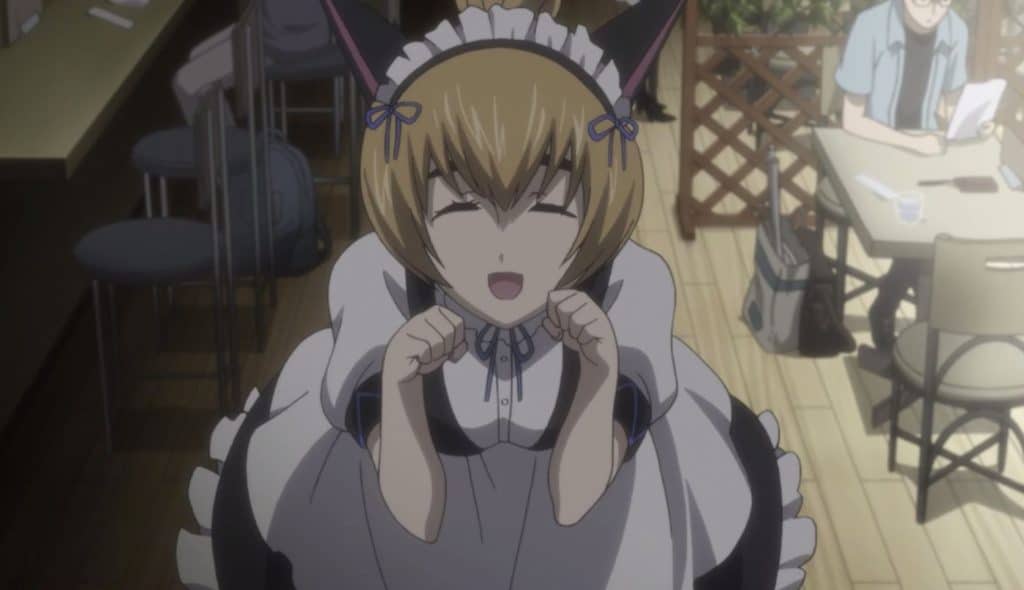 There is also the table where Okabe and Daru were talking about the rumor that one IBM 5100 was lurking somewhere in Akihabara.
As you can see, the chair and table look identical.
If you're a big Steins;Gate fan, it's easily one of the best things to do in Akihabara.
Do I need a reservation?
It gets crowded sometimes, so I would recommend to call them (03-5289-7310) and reserve a table.
If you don't have a Japanese number or you don't speak Japanese, just go there and ask for a table. Most of the time, getting one won't be a problem.
Menu
Mailish cafe has a special menu of Steins;Gate (and Steins;Gate Zero as well).
*I couldn't find any good vegan meal there.
You can order the Omurice (Japanese Omelette Rice) that Daru and Okarin were eating in episode 2.
The Omurice costs only 1,300 yen (12 USD) and yes the cafe will write 世界がヤバイ!(The World is in Danger) on your omurice 😀
Review
As someone who loves Steins;Gate & Steins;Gate 0 a lot, I think anyone on the same boat will enjoy every second of being in this anime cafe.
Because the cafe is so similar to the one portrayed in the animation, you'll feel like you're living in the anime!
This a MUST go place for every fan of this anime.
Tips
Mailish Cafe doesn't sell anime goods or Steins;Gate official merchandise. If you are looking for Steins;Gate T-shirts check out this article: Where to buy Anime T-Shirts in Tokyo. Or if you want to buy some figures just walk around Akihabara and you will find a lot.
The English of the waitresses is limited, so you may want to use a translator in case you want to ask something specific.
If your travel buddy doesn't like Steins;Gate, convince her/him to go with you. Visiting a Maid Cafe in Tokyo is a unique experience.
If you have kids, you can also enjoy this Maid Cafe. I went with my Japanese girlfriend, her 16 year old little sister, her 5 year old little brother, and her mom and we had a great time.
Like in most maid cafés you can't take pictures of the waitresses and customers. If you want to take a picture with one of the waitresses you need to pay. I think that the cost of one picture is around 1,100 yen (10 USD).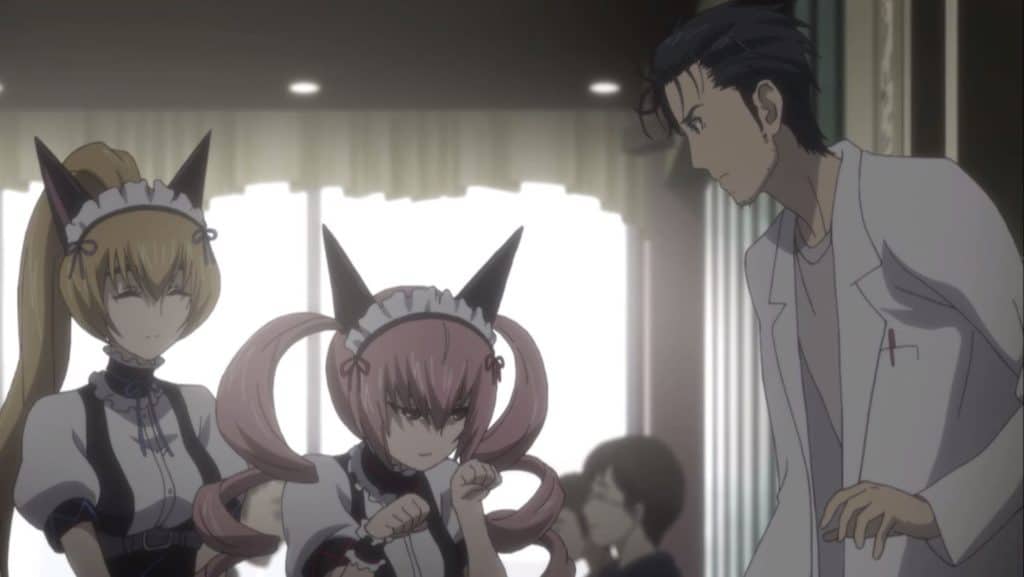 Btw, if you also like Code Geass, don't forget to check out:
Access
There are 3 stations close to the cafe:
All are in about the same place, but Akihabara JR's exits are a shorter walk (around 15-minutesd) from the cafe.
Also, if you have the JR pass, Akihabara JR will be the better option of the three. If you get there via Akihabara JR, take the Electric Town exit.
〒101-0021 Tōkyō-to, Chiyoda City, Sotokanda, 3-chōme−6−2 FH協和スクエア 2F
If you need more information visit the website of the anime cafe.
Hours
Open 11am-10pm every day.
Estimated Time
One to one and a half hours
Budget
Ordering one drink and one meal (or dessert) will cost around 1,900 yen (17 USD) per person.
Close to
Mailish Cafe is in Akihabara, the biggest anime district in the world, so there are a lot of things to do close to the cafe.
A recommended route is:
Do some shopping in Akihabara
Go to the Café
Then, I suggest you go to Asakusa or keep walking around Akihabara.