Steins;Gate Real Life Locations in Tokyo Akihabara
Are you visiting (or living in) Japan and want to visit the real life locations from Steins;Gate in Akihabara, Tokyo?
Then you found the right post.
I'll show you the EXACT location of popular places and landmarks featured in the animated series.
I'm also adding many pictures comparing the real-life scenery of Akihabara with how it's portrayed in the anime.
This is a step by step, location by location guide, so you'll know exactly where to go 😀
This is one of the best anime attractions in Tokyo, don't miss it. And yes, it is FREE.
Steins;Gate is one of my favorite anime and enjoyed every second visiting the real-life locations. Don't miss the opportunity to go if you're in Tokyo.
You'll feel like you're living in the anime during your tour in Akihabara!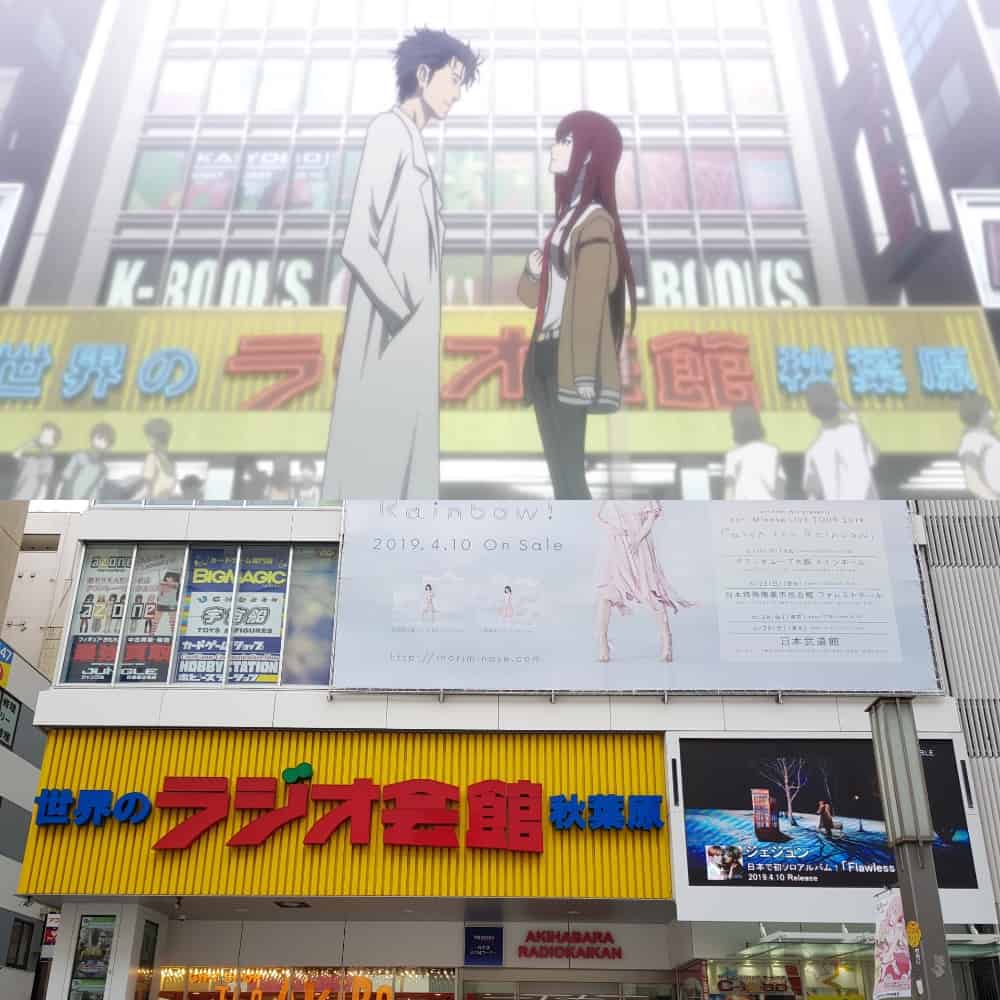 Where to start?
There are two ways through which you can visit the real-life locations of Steins;Gate (or Steins;Gate Zero) in Tokyo.
1) Akihabara Station
There are 2 stations in Akihabara:
Both are in about the same place, but Tokyo Metro's exits are a short walk from off of Akihabara's main strip.
If you have the JR pass, Akihabara JR will be the better option of the two. If you get there via JR, take the Electric Town exit.
2)Iwamotocho Station
The other way to start off the Steins;Gate's tour is through Toei Iwamotocho Station.
I suggest you start here in Iwamotocho, but if not, Akihabara Station is also fine.
When you arrive, take Exit A2.
*All the real-life locations are in the same area so you don't need to take a train or taxi. Enjoy the walk 🙂
*This tour will take you around one hour and half.
I'll walk you through the following places featured in the anime:
Rukako's House (Akiba Shrine)
Address: 2 Chome-25−1 Kanda Sudacho, Chiyoda-ku, Tokyo-to 101-0041
Start the anime pilgrimage tour by going to shrine where Rukako lives.
In the anime, it looks pretty spacious, but its real-life equivalent is a little smaller.
Kanda Fureai Bridge
After going to Akiba Shrine, just walk 30 seconds and you will see the Kanda Fureai Bridge.
This is from episode 18 when Okarin was about to have a date with Rukako.
Cross the bridge and you will see the stairs where Mayuri is on the floor.
RadioKaikan
Address: 〒101-0021 Tōkyō-to, Chiyoda-ku, Sotokanda, 1 Chome−15−16 秋葉原ラジオ会館
Radio Kaikan is probably the most iconic spot from Steins;Gate.
This is the place where the time machine appeared and stays lodged in throughout the show.
Also, where Okarin and Makise Kurisu bump into each other at the end of Steins;Gate.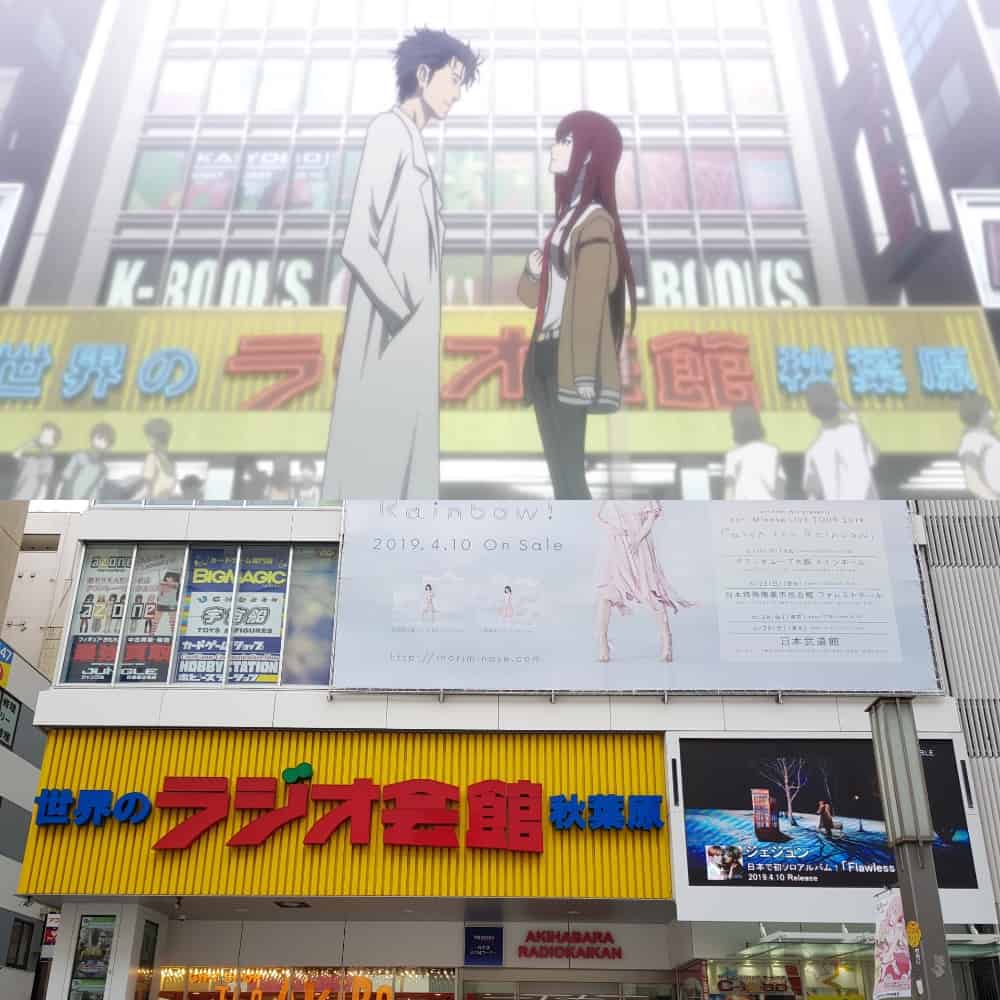 As you can see, the place looks almost identical to the anime.
PS: If you looking for T-Shirts of Makise Kurise or any character of Steins;Gate don't forget to check:
Akihabara Station JR
After Radio Kaikan, walk to the station, and you will see more scenes featured in the anime.
Here are two images Steins;Gate 0's episode 8.
Stairs in front of Akihabara Station
In front of Akihabara Station JR, you will find the stairs that appeared in many episodes of Steins; Gate and Steins; Gate Zero.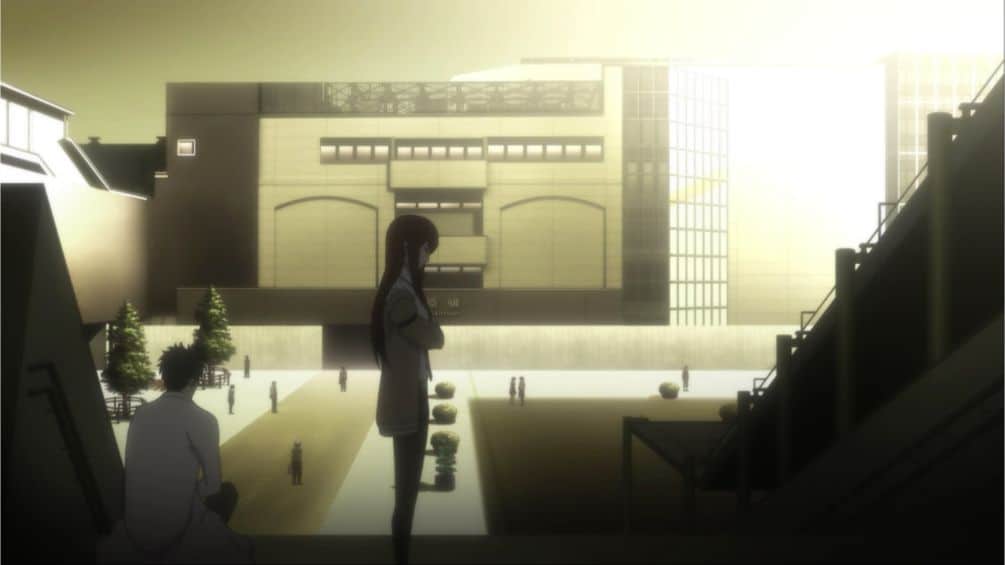 The next spot is the lockers where Okarin and Moeka found the IBN 5100.  From the stairs to the lockers it takes around 3 minutes by foot.
The locker where Okarin found the IBN 5100
Address: 第5電波ビル、〒101-0021 Tōkyō-to, Chiyoda-ku, Sotokanda, 1 Chome−12−1
While you are walking to the lockers you will recognize this place:
I was so excited when I ran into the lockers for the first time, they look identical in real life!!
Beef Bowl Restaurant
Address: 〒101-0021 Tōkyō-to, Chiyoda-ku, Sotokanda, 3 Chome−14−4 国際ビル
The next stop is the famous beef bowl restaurant featured in several episodes.
While you're heading toward Horin Park you can stop at Akibaqueen. In one episode Okarin and Hiyajo were buying some stuff there.
Address: 〒101-0021 Tōkyō-to, Chiyoda-ku, Sotokanda, 1丁目8−10 バウハウス
Horin Park
Address: 3 Chome-5-18 Sotokanda, Chiyoda-ku, Tōkyō-to 101-0021
This is the only place that looks quite different in real life. You can skip it if you don't have much time.
May Queen Nyan
The last stop is the Maid Cafe where Mayuri and Faris Nyannyan works. In real-life the name of the cafe is Cafe Mailish.
I wrote an entire article about this anime cafe. Check it out:
And yes, it has a menu of Steins;Gate (and Steins;Gate Zero as well).
And with that, I'll be adding more real-life locations regularly!
Would you like to visit the real life locations? Did you like Steins;Gate Zero?
Let your voice be heard below!
If you have like time travel anime, don't forget to check the following article: