Looking for anime attractions in Tokyo?
In this post I'll be showing you the greatest sacred anime spots.
The best part?
These attractions are completely FREE!
The "holy lands" featured in this post are perfect if you happen to be in the capital of Japan and/or you want to do a day trip out from Tokyo.
Let's dive in.
1. Your Name
One of the most famous anime locations and one of the most popular real-life anime places in Japan of recent years, the stairs from Your Name can be found in Yotsuya, Tokyo.
These stairs lead up to Suga Shrine, which is easy to visit if you happen to be in Tokyo. Walk up these iconic stairs and who knows, you might be reunited with your own Mitsuha/Taki.
A short walk from the red stairs is Yotsuya station, where Taki and Miki meet for their date.
More info:
2. Steins;Gate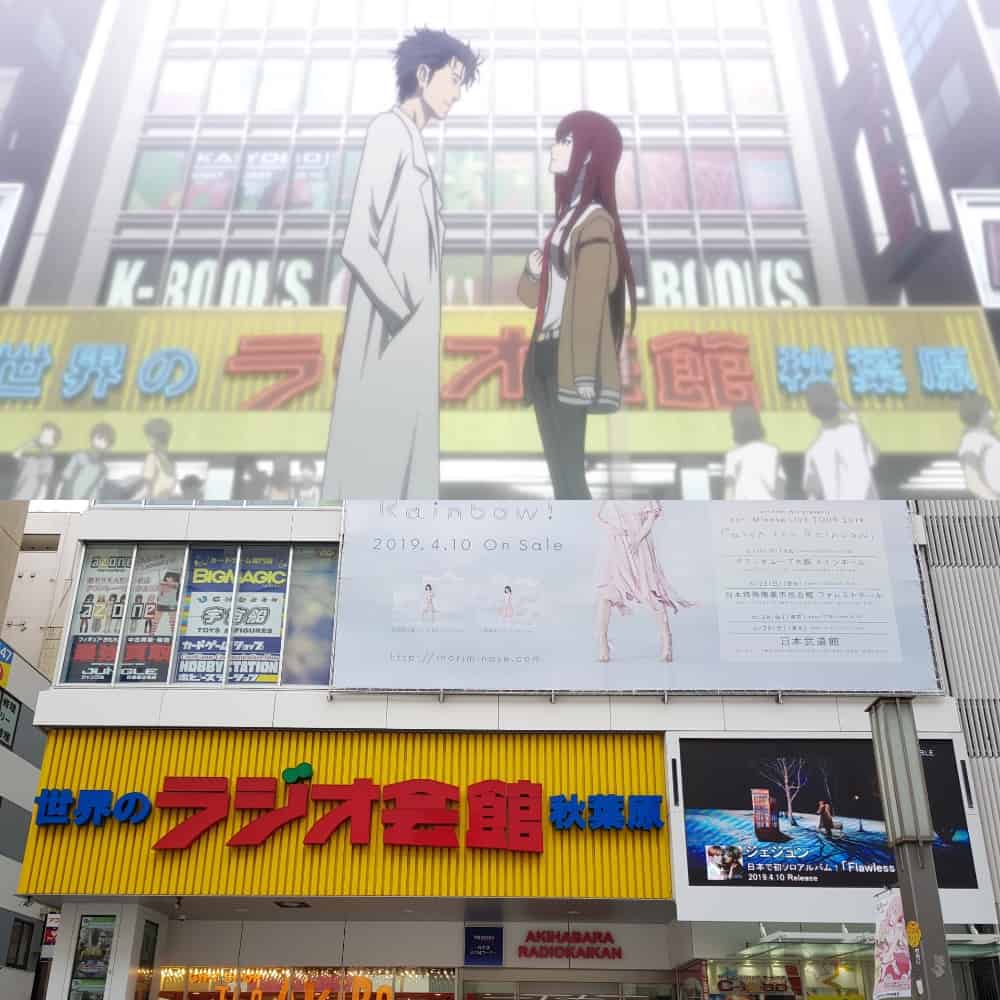 Akihabara! One step out of JR Akihabara station, and you'll see the Radio Kaikan building where the seminar from episode 1 was held, and its top floor where the time machine appears.
No metal oopas, but there are Steins;Gate vending machines selling the thinking man's drink, Dr. Pepper to commemorate the show, which you can find inside the building.
An easy place to stop by if you're in Akihabara, it's really just right there.
More info:
3. Rascal Does Not Dream of Bunny Girl Senpai
Around Enoshima Island and Fujisawa City, you'll get to see a ton of the anime's scenery in real life.
So much of the coastal suburban locale featured in the series takes place in just this small area, it'll all be pretty easy to navigate and see some of the show's key locations like the beach and train station where Sakuta threw down with the upperclassmen bullies.
If you are planning an anime day trip from Tokyo you really need to visit the places that were used to create the scenes of Aobuta.
If you haven't seen Bunny Senpai I don't know what're you waiting for, it's one of the most popular anime in Japan now!
More info here.
4. One-Punch Man
Visit Z City- I mean Setagaya, Tokyo and see Saitama's apartment almost exactly as it is in the anime. You can even see the highway out in front of it, where Saitama "fought" the subterraneans in his dream.
Rumor has it, the strongest hero, King will sometimes come by here. He doesn't do autographs.
More info:
5. Weathering With You
The latest movie from Makoto Shinkai just came out on July 19th and quickly became one of the popular anime pilgrimages spots in Japan!
In the picture below, we see Hodaka and Hina making their escape through the roads of Kabukicho. As the movie takes place throughout Tokyo, you'll find many locations scattered throughout it, many of them fairly easy to visit.
More info:
6. Bungo Stray Dogs
The "holy hands" of Bungo Stray Dogs are mainly in Yokohama.
One of the few locations located in Tokyo is a storied bar located in Ginza, Tokyo, the real Bar Lupin.
The anime is historically accurate, and the real-life counterparts to the anime's characters were regulars at this bar.
Bungo Stray Dogs takes place in the city of Yokohama, about a half-hour south of Tokyo. Behind Ogai Mori is the Yokohama Marine Tower, and this particular scene takes place in Yamashita Park.
Note: The building of the Armed Detective Agency, where the main characters work, doesn't exist in the real world 🙁
For the locations in Yokohama, take a look of this post.
7. Love Live
To be an idol, you need a heart of gold and a body of steel. A 5 minute walk from the Anime City (Akihabara)'s main strip, you can visit Kanda Shrine where Nozomi serves as a shrine maiden, and the stairs where μ's runs up and down to train for their live shows.
It shares locations with number 2 on this list, Steins;Gate, so be sure to pay Akihabara a visit. Definitely one of the best places to visit in Japan for anime fans.
More info here.
8. Tokyo Ghoul
As you can guess from the title, Tokyo Ghoul does in fact take place in Tokyo, and you can explore the real-life scenes from the show!
For example, you can find the university where Ken Kaneki studied. Other places include Shibuya Crossing, Tokyo Skytree, etc.
More info here.
9. Ano Hana
If you're traveling around Tokyo, you can't miss the holy lands of Ano Hana. The series takes place in the outskirts of Tokyo in Chichibu City.
More info here.
10. Sailor Moon
Sailor Moon, one of the most popular anime of the '90s, also takes place in Tokyo.
AzaHikawa Shrine is the place where Rei Hino (Sailor Mars) and her grandfather lived and worked at.
11. Sword Art Online
The shot above in season 1's second opening takes place outside of Tokorozawa Station.
Though you won't find any locations from Aincrad, Tokyo is fairly well-featured in SAO 😛 .
This scene from Ordinal Scale takes place in Yebisu Garden Place, a group of nice-looking buildings and plaza, home to the Yebisu Beer Museum.
What's your favorite location?
Am I missing any good spots?
Let me know in the comments below!