Bungo Stray Dogs Bar in Ginza, Tokyo
Are you a fan of Bungou Stray Dogs? Or are you in Ginza looking for a unique bar in the area?
Keep reading!
Description
You've probably already noticed that most of the characters in Bungou Stray Dogs are based on Japanese artists.
It turns out, that during the half of the past century, Oda Sakunosuke, Osamu Dazai & Ango Sakaguchi used to drink at Bar Lupin.
In other words:
Real-life: In the 1950's, Oda Sakunosuke, Osamu Dazai & Ango Sakaguchi used to drink at Bar Lupin.
Anime: In episode 1, 2 and 3 of season 2, Oda Sakunosuke, Osamu Dazai & Ango Sakaguchi drank at Bar Lupin.
And the bar still exists in real life and it's one of the best bars in Ginza, Tokyo!!
Isn't that fantastic?
I'm impressed that Kafka Asagiri, the mangaka, went in to so much detail when he was writing this manga.
This bar is a wonderful way to connect anime with real life (same mission as Mipon).
According to the information that the bar provided me:
"Lupin, Ginza" opened in 1928. For the opening, the bar was supported by some great literary masters; Tom Satomi, Kyoka Izumi, Kan Kikuchi and so on. In 1941, due to the war, Lupin was banned from using a foreign name. During the postwar days, the place could not sell liquor, therefore Lupin was restarted as a coffee shop in 1946.
After that, the bar procured alcohol by many years and sold it secretly until liquor was allowed to be sold freely. Around 1949, most of Lupin's guest was from publishing companies. Among them, they were some novelists know as so-called "Burai-ha," or a rough group such as Oda Sakunosuke, Osamu Dazai & Ango Sakaguchi. In 1995, Yukiko Takasaki, the landlady who had been present since the opening of the bar passed away. Miss Takasaki's wish is Lupin to be a bar and that's what the place is trying to maintain.
Note: The above paragraph is a brief of the official history of the bar. Not something random that I found online. When I visited the bar, they gave me a pamphlet with this information.
A picture of Odasaku drinking in Bar Lupin in episode 1 of season 2.
Here is a photo of the recommended drinks that are on the menu: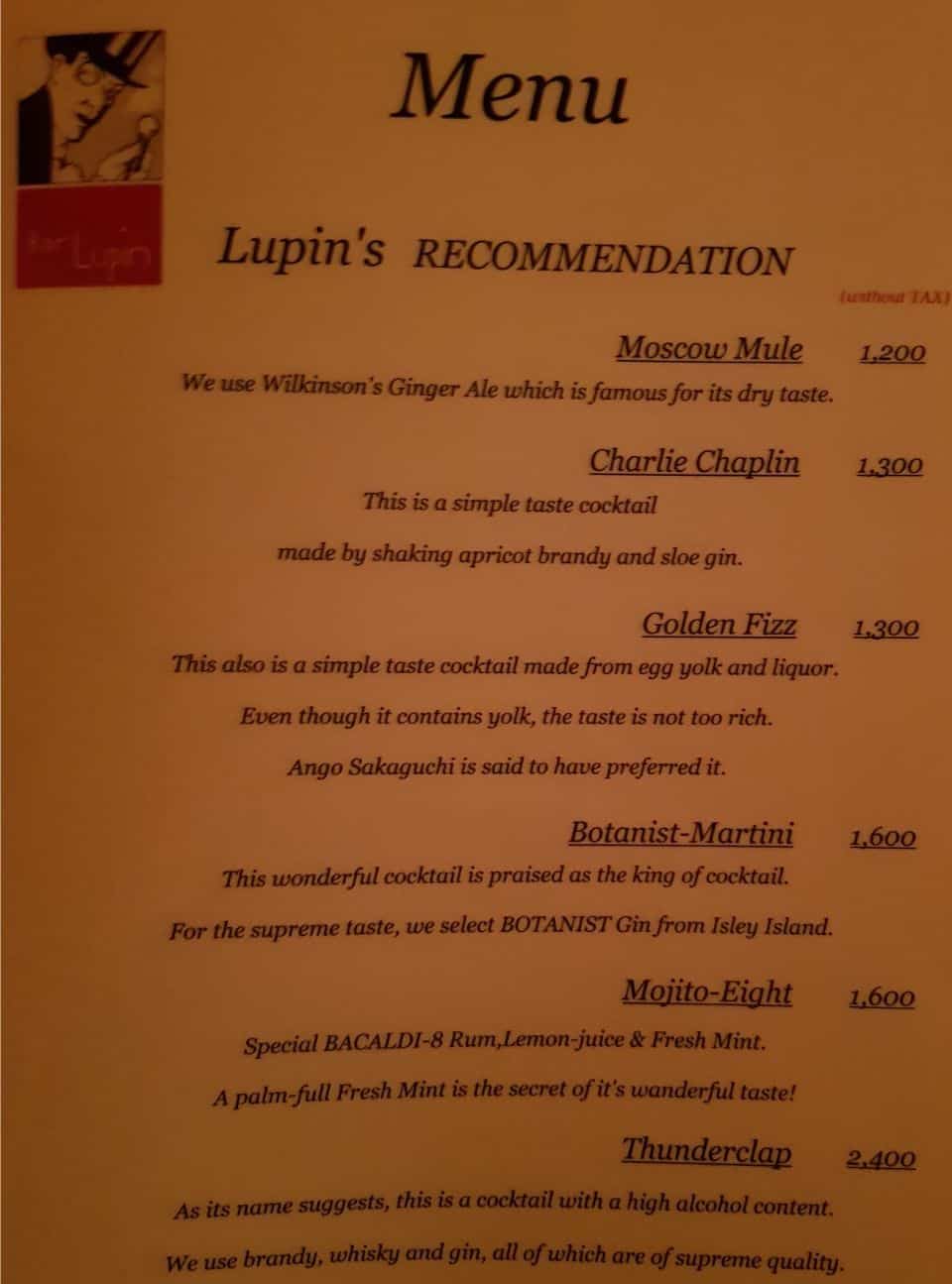 Here are some things that you'll need to know before going to this bar:
You don't need a reservation but it gets easily crowded.
There is a cover charge of 800 yen (7 USD).
No credit card accepted. Only cash.
The drinks are around 1,200 yen (11 USD)
If you want to take pictures of the bar, go early. It gets crowded at around 6 pm.
If you are interested in the history of the bar, ask for the pamphlet. They have an English version.
Finally, I asked the bar staff for the names of the drinks portrayed in the anime but they didn't know.
One more thing. Included in the cover charge, you'll get a free match box. Yes, those are same that Dazai was holding at the end of season 2.
Review
Whether or not you're a Bungo Stray Dogs fan, you'll enjoy drinking at this place. The bar has a lot of history and has been open since 1928!!
The best part of the bar is that you'll be able to sit in the same place as great Japanese artists and writers. At the same time, you'll be visiting one of the anime pilgrimage's spots of Bungo Stray Dogs. You'll be killing two birds with one stone.
Just be aware that the bar is a bit expensive and even if you want to go for just one drink you'll spend at least 2,000 yen (19 USD).
Access
Address: 5-chōme-5-11 Ginza, Chūō-ku, Tōkyō-to 104-0061
Hours
Tuesday – Saturday (even on National Holidays)
17:00 – 23:30 (last order 23:00)
You can find more info on the official website (www.lupin.co.jp) of the bar.