Weathering With You: 13 Real Life Locations in Tokyo
Are you a fan of Makoto Shinkai & Your Name?
Keep reading!
Makoto Shinkai, the director of Kimi No Na Wa (Your Name), is directing a new movie called Weathering With You (Tenki no ko).
It focuses on Hodaka Morishima and Hina Amano. Hodaka moves to Tokyo and encounters a girl who can somehow control the weather.
The movie just came out on July 19th and it was one of the most anticipated films in Japan.
Like Your Name, Weathering With You (Tenki No Ko) takes place in Tokyo and in both trailers, we can see a lot of real-life locations.
Note: I already watched the movie, but this article doesn't have spoilers.
This post is divided into 3 parts:
a) A step by step, location by location guide to the most important places that were featured in the movie.
b) More real-life locations from Weathering With You in Tokyo that would be nice to visit but I don't think that they are a must-visit. 
c) Other places that were featured in the trailer but didn't play an important role
Step by step tour
Where to start?
The best way to start your anime pilgrimage tour is at any of the following of stations :
Shinjuku JR  

Shinjuku Sanchome

Shinjuku Tokyo Metro

Shinjuku Oedo 

Seibu-Shinjuku Station

Shinjuku-Nishiguchi Station
All the above stations are in the same area (Shinjuku), so just make sure to go to the Kabukicho Exit. 
If you have a JR pass, Shinjuku JR will be the better option.
*This tour will take you around 4-5 hours.
Kabukicho
Manga Café
Start the anime pilgrimage tour by going to the manga café where Hodaka stayed. 
Address: Japan, 〒160-0022 Tōkyō-to, Shinjuku-ku, Shinjuku, 3-chōme−20−5 ニューサンパークビルB1F
—
Hina's part-time job
Then walk around 4 minutes and you'll see a McDonald's.
Something important took place here. Don't worry, I won't give spoilers.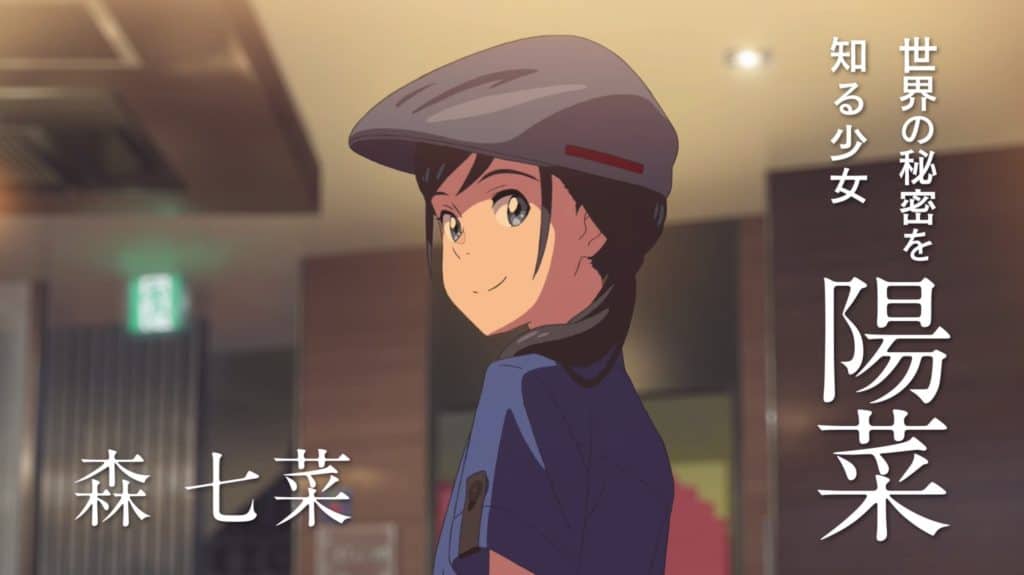 Address: 日本、〒160-0021 東京都新宿区歌舞伎町1丁目24−1
—
Several Roads in Kabukicho
5 minutes from McDonald's is another spot. In this scene, Hodoka was in the doorway, sitting on the floor. 
Walk 10 seconds and this was the place where Hodoka and Hina started their escape away from someone.
Address: 〒160-0021 東京都新宿区歌舞伎町2丁目27 アタックビル
—
Here is one more scene of the main characters running in Kabukicho.
Address: エコロパーク 歌舞伎町第20
—
Close to the Godzilla Statue, we can see Tenkaippin, the popular ramen restaurant.
Note: This spot is close to one of Code Geass's real-life location.
Address: Japan, 〒160-0021 Tōkyō-to, Shinjuku City, Kabukichō, 1-chōme−14, 歌舞伎町1丁目14−3 第103東京ビル 1・2F
In both movies, Your Name and Weathering With You, Shinjuku is the ward where we can see the largest amount of real-life locations. 
Torii (Japanese traditional gate)
After visiting Kabukicho, take the Yamanote Line (Platform 14) in Shinjuku JR Station and head to Yoyogi Station. 
It's just 2 minutes away by train and 20-25 minutes on foot from Kabukicho. 
* The JR Pass is valid for the mentioned route.
As you might guess while watching the trailer, this is the most important spot in Tenki No Ko. 
If you already watched the movie you probably know why, but if you haven't I won't tell why. 
All you need to know is that you must visit this building asap because it will be demolished in August 🙁
Note: You can't go to the rooftop. Just take pictures outside the building.
Here one picture that I found online of what the building's rooftop looks like in real life: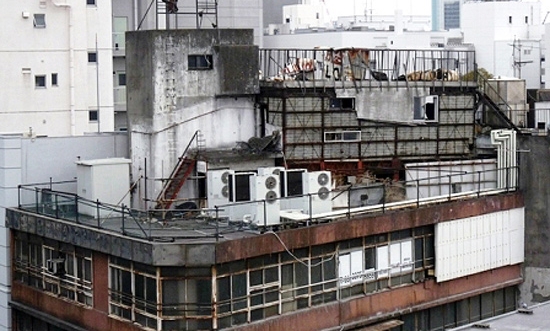 Hodaka's lodging in Tokyo.
The next spot is where Hodaka was staying while he was in Tokyo.
Take the train at Yoyogi Station and head to Kagurazaka Station (15 minutes).
Take exit B1 in Kagurazaka Station and after 2 minutes on foot, you'll spot the house. 
I know the house it's quite different in real life. But, believe when I say that this the house.
Address: 日本、〒162-0818 東京都新宿区築地町20−2
Tabata Station
30 seconds from the South Exit of Tabata Station you can spot another location.
Together with the building in Yoyogi, this is the most important place featured in Tenki No Ko.
Address: 1-chōme-17 Higashitabata, Kita-ku, Tōkyō-to 114-0013, Japan
More real-life locations of Weathering With You
These are not as important as the ones listed above, but I think that they are worth mentioning.
The locations below are pretty far from each other. So, my recommendation is:
travel around in Tokyo and if where you're going happens to be near one of these Weathering With You locations, pay it a visit. Otherwise, specifically seeking out the landmarks that I listed in this post will take you a lot of time.
Yamano Tower
And the tower seen outside the window in the shot above is the NTT DoCoMo Yoyogi Building.
Closest Station: Yoyogi Station or Minami-Shinjuku Station
Address: 1-chōme-53-1 Yoyogi
Shibuya Crossing
The most popular crossing in the world was also featured in the trailer.
Closest Station: Shibuya Station (Hachiko Exit)
Tokyo City View Observation Deck (Roppongi Hills)
At the very beginning of trailer 1, we can see the Roppongi Mori Building and its Observatory Deck.
Here's another image of Roppongi Hills. We can also see Tokyo Tower.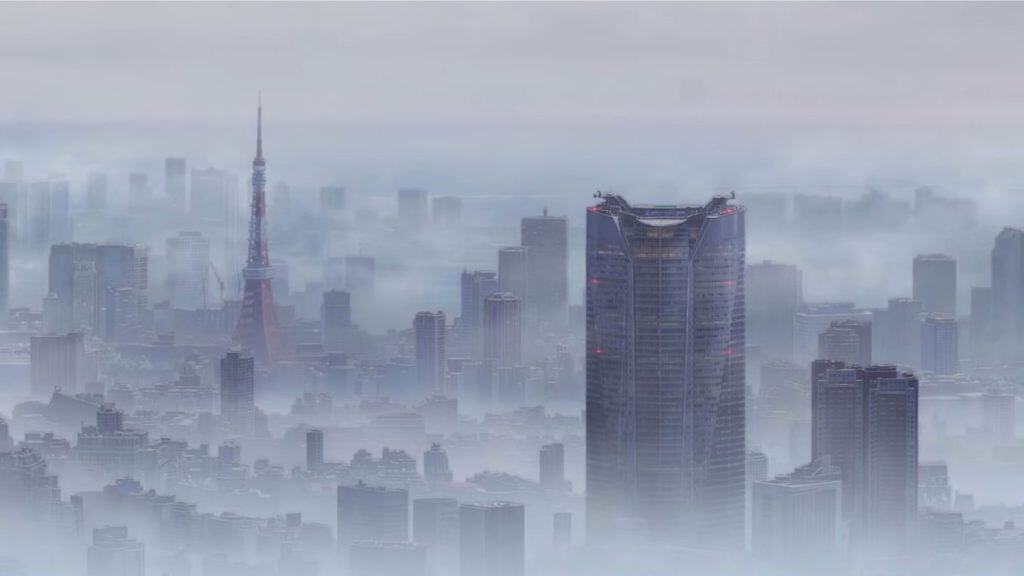 Photo credit: @nadukari_h
Closest Station: Roppongi Station
Address: 6-chōme-10-1 Roppongi, Minato City, Tōkyō-to 106-0032, Japan
Minatokushiba Park
A bit close to the previous location, you can see another location. This is where  Hodaka and all the other main characters were having fun.
Photo credit : touyoko_com
Address: 4-chōme-8 Shibakōen, Minato-ku, Tōkyō-to 105-0011, Japan
Odaiba
Hodaka and the Weather Girl did something here.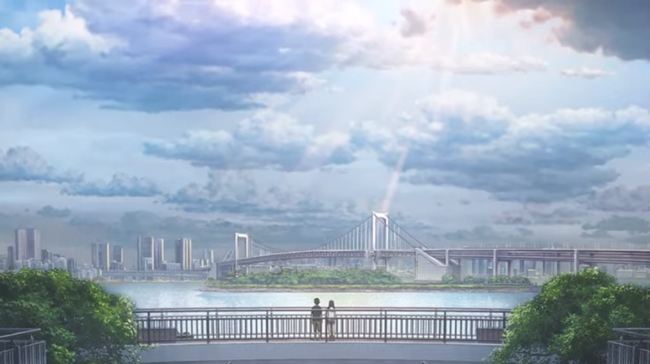 A picture of Hareonna (100%晴れ女) in front of Tokyo Teleport Station.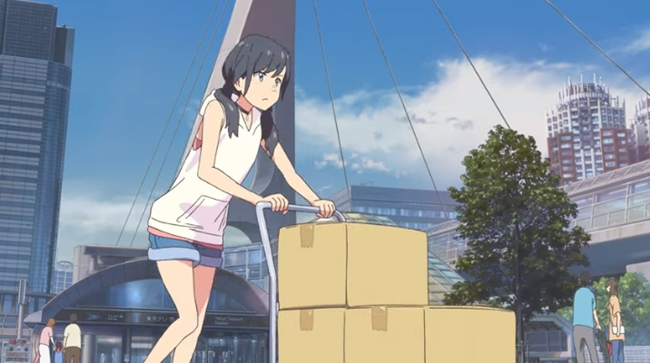 Address: 1-chōme-2 Aomi, Kōtō-ku, Tōkyō-to 135-0064, Japan
Other locations
Finally, these landmarks were featured in the movie but didn't play an important role.
Shinjuku Central Park (Cocoon Tower)
A cool building visible througout Shinjuku shared by 3 colleges and vocational schools.
The coccoon theme is to convey an image of a coccoon that nurtures the students inside. *shudders* Kind of creepy.
Closest Station: Tochomae Station
Address: 2-chōme-11 Nishishinjuku, Shinjuku City, Tōkyō-to 160-0023, Japan
Koenji Hikawa Shrine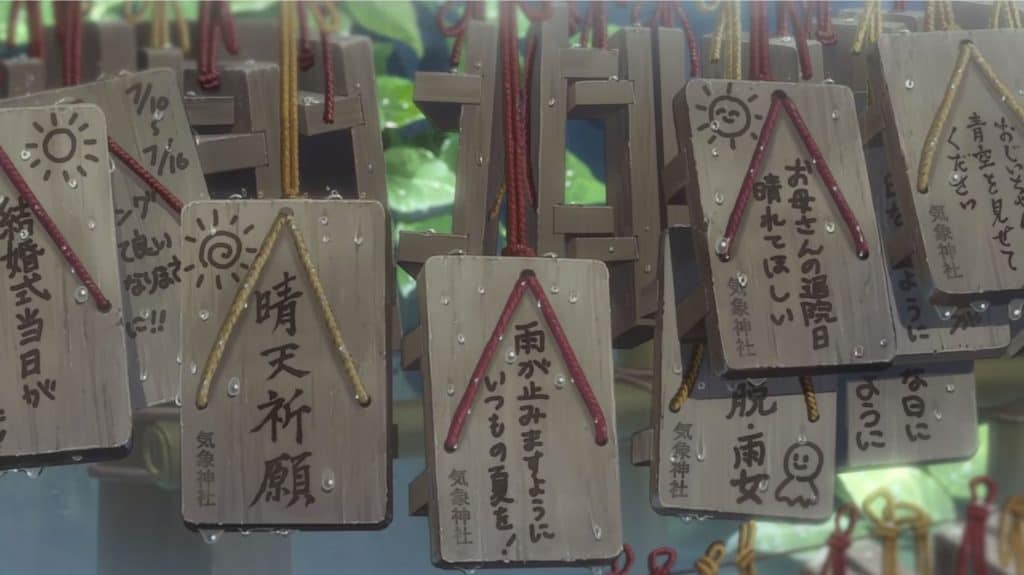 Koenji Hikawa Shrine is a weather shrine where people pray for good weather.
The movie features the same kind of ema (wooden plaques for writing wishes) as the real shrine. You might notice they're oddly shaped like geta. (Japanese wooden sandals) That's because in olden Japan, these sandals would be tossed in the air as a spiritual way of forecasting weather.
Photo credit to @furutamandola 
Closest Station: Koenji Station
Address: 4-chōme-44-番19号 Kōenjiminami, Suginami City, Tōkyō-to 166-0003, Japan
Nozomi Slope
Photo credit: @Kijam5cm
And for our observant readers- yes!  Nozomi Slope (のぞき坂) was also featured in Saekano: How to Raise a Boring Girlfriend.
Closest Station: Kishibojimmae Station or Zoshigaya Station
Address: 2 Chome-12-21 Takada, 豊島区 Toshima City, Tokyo 171-0033
Frequently Asked Questions (FAQ)
Where to buy merchandise of Tenki No Ko?
Several stores in Japan are selling merch of the newest movie from Makoto Shinkai.
For example, you can find some in the store located inside Wald9's cinema.
As for T-shirts, UNIQLO Japan is now selling tees of Weathering with You and Your Name. You can find a store in almost any place in Japan.
Who did the soundtrack for Weathering with you?
RADWIMPS, the Japanese rock band that created the soundtrack of Your Name, returned for Makoto Shinkai's new project, in charge of its soundtrack like the song heard in the trailer.
The official album was released the same day that the movie came out (19th of July)
The songs that were featured in the trailer are:
"Is there still anything that love can do?"
"Grand Escape (Movie edit) feat. Toko Miura"
The soundtrack is not available yet on Spotify Japan, but if you're using a VPN just change your location to the USA and you'll see the album.
Hina's snacks
If you're curious about what kind of junk food Hina is holding:
Nissin Chicken Ramen Instant Noodle
Koikeya Seaweed & Salt Potato Chips
And yes, you can buy it at any convenience store in Japan. Try them out if you get the chance!
The snacks that appear in the anime have the same names and packaging as in real life.
Can I watch Weathering With You with subtitles at a Japanese cinema?
Can't say for sure yet. Toho Cinema, Wald 9 or other theaters haven't announced that they will screen the movie with subtitles. I'll update this post as soon as I know. Don't forget to follow me on Twitter for updates and more anime pilgrimage articles!