Weathering With You: 10 Real Life Locations in Tokyo
Are you a fan of Makoto Shinkai & Your Name?
Keep reading!
Makoto Shinkai, the director of Kimi No Na Wa (Your Name), is directing a new movie called Weathering With You (Tenki no ko).
Weathering With You (Tenki No Ko), focuses on Hodaka Morishima and Hina Amano. Kotaro Daigo moves to Tokyo and encounters a girl who can somehow control the weather.
The movie is coming out on July 17th and it is already one of the most anticipated movies in Japan.
Like Your Name, Weathering With You takes place in Tokyo and in both trailers we can see a lot of real-life locations.
In this post, I'll show you 10 spots so you can visit it them in Tokyo and do your own anime pilgrimage.
Note: This article doesn't contain spoilers!
Kōenji Hikawa Shrine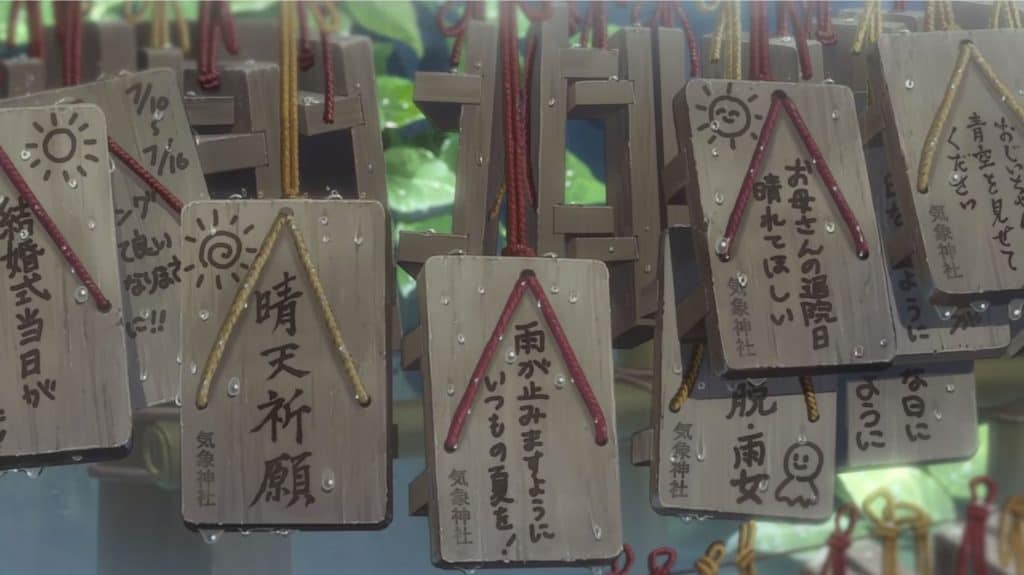 Koenji Hikawa Shrine is a weather shrine where people pray for good weather.
The movie features the same kind of ema (wooden plaques for writing wishes) as the real shrine. You might notice they're oddly shaped like geta. (Japanese wooden sandals) That's because in olden Japan, these sandals would be tossed in the air as a spiritual way of forecasting weather.
Photo credit to @furutamandola 
Closest Station: Koenji Station
Address: 4-chōme-44-番19号 Kōenjiminami, Suginami City, Tōkyō-to 166-0003, Japan
Shinjuku Central Park (Cocoon Tower)
An iconic building visible througout Shinjuku that's shared by 3 colleges and vocational schools.
The coccoon theme is to convey an image of a coccoon that nurtures the students inside. *shudders* Kind of creepy.
Closest Station: Tochomae Station
Address: 2-chōme-11 Nishishinjuku, Shinjuku City, Tōkyō-to 160-0023, Japan
Tenkaippin
Close to the Godzilla Statue, we can see Tenkaippin, the popular ramen restaurant.
Note: This spot is close to one of Code Geass's real-life location.
Closest Station: Shinjuku Station
Address: Japan, 〒160-0021 Tōkyō-to, Shinjuku City, Kabukichō, 1-chōme−14, 歌舞伎町1丁目14−3 第103東京ビル 1・2F
7-Eleven Shinjuku Tsukijimachi
Closest Station: Kagurazaka Station
Address: 20-2 Tsukijimachi, Shinjuku City, Tōkyō-to 162-0818, Japan
Yoyogi Kaikan Building
I believe that this is the building where Hina lives.
Note: According to BuzzFeed Japan, the building might be demolished at the end of June (before the premiere of the movie).
Make sure to visit the building asap 😀
Closest Station: Yoyogi Station (North or A1 exit)
Yamano Tower
Just a 5-minute walk from the previous location, you'll find Yamano Tower.
According to the Japanese website, Zaxtukiblog, Hina is sitting on the 27th floor of Yamano Tower.
And the tower seen outside the window in the shot above is the NTT DoCoMo Yoyogi Building.
Closest Station: Yoyogi Station or Minami-Shinjuku Station
Address: 1-chōme-53-1 Yoyogi
Shibuya Crossing
The most popular crossing in the world is also featured in the trailer.
Photo credit: @nadukari_h
Closest Station: Shibuya Station (Hachiko Exit)
Tokyo City View Observation Deck (Roppongi Hills)
At the very beginning of trailer 1, we can see  the Roppongi Mori Building and its Observatory Deck.
Here's another image of Roppongi Hills. We can also see Tokyo Tower.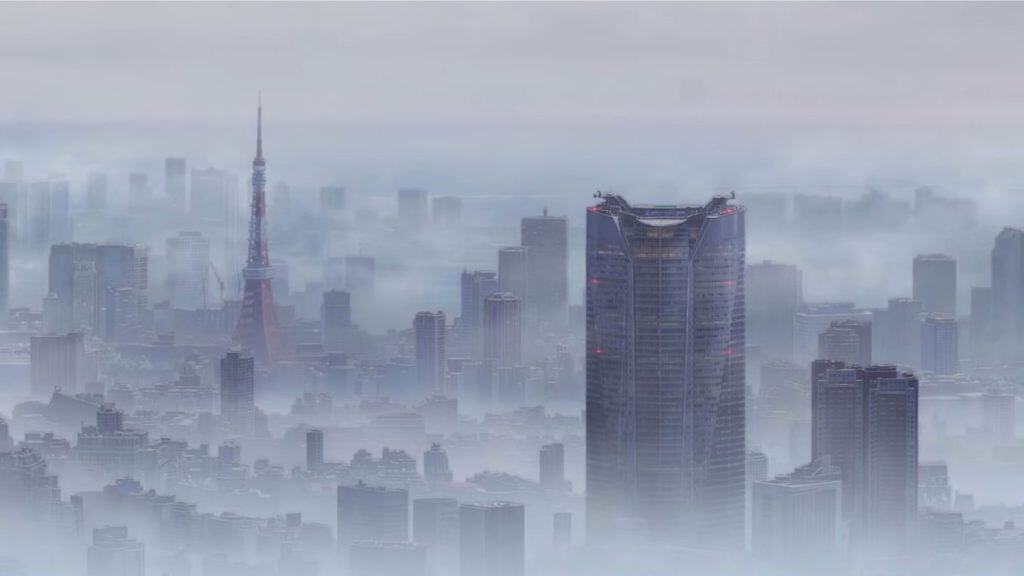 Photo credit: @nadukari_h
Closest Station: Roppongi Station
Address: 6-chōme-10-1 Roppongi, Minato City, Tōkyō-to 106-0032, Japan
Nozomi Slope
Photo credit: @Kijam5cm
And for our observant readers- yes!  Nozomi Slope (のぞき坂) was also featured in Saekano: How to Raise a Boring Girlfriend.
Closest Station: Kishibojimmae Station or Zoshigaya Station
Address: 2 Chome-12-21 Takada, 豊島区 Toshima City, Tokyo 171-0033
Tabata Station
30 seconds from the South Exit of Tabata Station you can spot another location.
Closest Station: Tabata Station (South Exit)
Address: 2-chōme-12-21 Takada, 豊島区 Toshima City, Tōkyō-to 171-0033, Japan
Other
Who will do the soundtrack for Weathering with you?
RADWIMPS, the Japanese rock band that created the soundtrack of Your Name, will be returning for Makoto Shinkai's new project, in charge of its soundtrack like the song heard in the trailer.
The names of two songs have been revealed and both will be released the same day that the movie is coming out (19th of July)
"Is there still anything that love can do?"
"Grand Escape (Movie edit) feat. Toko Miura"
Hina's snacks
If you're curious about what kind of junk food Hina is holding:
Nissin Chicken Ramen Instant Noodle
Koikeya Seaweed & Salt Potato Chips
And yes, you can buy it at any convenience store in Japan. Try them out if you get the chance!
The snacks that appear in the anime have the same names and packaging as in real life.
Can I watch  Weathering With You with subtitles at a Japanese cinema?
Can't say for sure yet. Toho Cinema, Wald 9 or other theaters haven't announced that they will screen the movie with subtitles. I'll update this post as soon as I know. Don't forget to follow me on Twitter for updates and more anime pilgrimage articles!
As soon as I watch the movie, I'll update this post with more locations. Keep visiting Mipon!