Description
Evangelion Store is located inside Evangelion World at Fuji Q Highland. Along with the ride at Universal Studios in Osaka and the VR game at VR Zone, these are the only Evangelion attractions that exist.
Evangelion goods
Evangelion Store Fuji Q has a vast variety of products, for example:
T-shirts
Posters
Plush toys
Cups
Chopsticks
etc.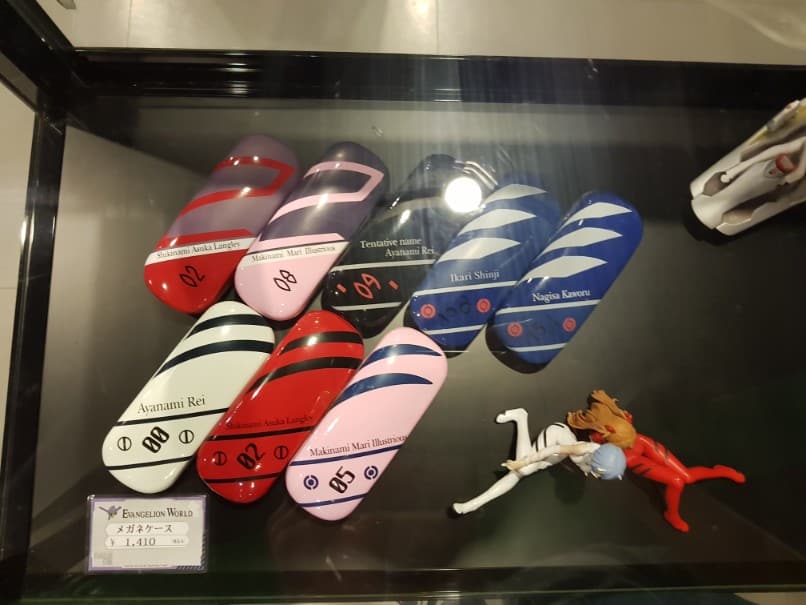 One of the best products is the NERV Original ID Card that you can customize with your photo.
The store has some promotions. For example, when I went, for every 3,000 yen (27 USD) spent, you get a free book.
If you are wondering, the store does not sell the Evangelion New Balance sneakers.
Evangelion's T-shirts
If you are looking for T-shirts, this store has a lot of variety. You can find t-shirts of Asuka, Rei, Shinji, etc.
Can I buy from them online?
Sorry, the store doesn't sell products online.
Review
If you go to Fuji Q Highland and you are a fan of Evangelion, you have to go to this store.
What I like most is the NERV Original ID Card, the variety of T-Shirts, the eyeglass cases and the hair accessories used by the Eva pilots.
For every big fan of Evangelion, this is a place that you cannot miss if you are visiting Japan.
That said, although you would miss out on the rest of Evangelion World, if you can't venture far from Tokyo, there's a smaller Evangelion store located in Ikebukuro, Tokyo.
In the coming weeks, I'll be adding more information about Evangelion in Japan. Wait for it 😀
By the way, the other day I wrote a post about the only Evangelion VR game that exists. Give it a read, you'll love it.
Access
Evangelion Store Fuji Q is located inside Fuji Q Highland in Japan.
Fuji Q Highland is around 2 hours away from Tokyo. There are several ways to go, check the official page for more information.
The two times I visited Fuji Q Highland were by bus. The first time I went, I took a bus from Shinjuku and the second time from Tokyo station.
Here's the address: 5 Chome-6-1 Shinnishihara, Fujiyoshida-shi, Yamanashi-ken 403-0017
Hours
9:00 am – 7:00 pm