Pokémon Cafe (All You Need to Know)
Today, I'll be talking to you about the Pokémon Cafe in Tokyo.
And, I will tell you EVERYTHING that you need to know to enjoy this place.
Let's start!
Description
Launched in 2018 in Nihonbashi, Tokyo, Pokémon Cafe is a cafe-restaurant decorated with your favorite pokemon.
To go to the Pokémon Cafe you need to have a reservation. You do it online, and it is quite simple.
Here's an article that explains how to reserve a table.
The cafe is always crowded, so you need to make a reservation at least two weeks before.
Note: I suggest you have a reservation, but you might still get in without a one. Outside the place, there is a red-lined area for "same day admission." On weekdays it is very possible to get in without a reservation.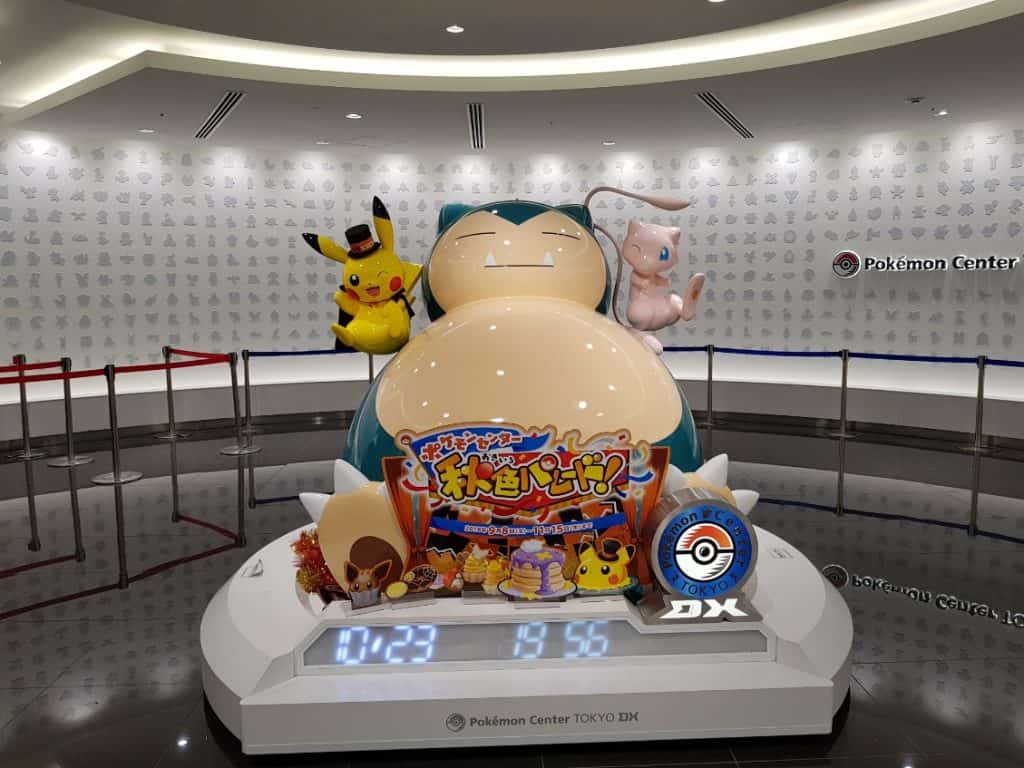 Decoration and atmosphere
When you arrive, one of the members of the staff will ask you to show them your reservation. Then they will tell you that you have 90 minutes to enjoy the restaurant.
The staff's English is limited. But the menu is in English so even without speaking Japanese you can fully enjoy the place.
The Pokémon cafe is decorated with hundreds of Pokémon like Charmander, Squirtle, Bulbasaur, Eevee, etc.
And of course, hundreds of Pikachu goods.
The Cafe gives you a free placemat.
If you ask for a drink, you play a small game on the iPad to get a free coaster.
I got a Vaporeon drink coaster.
Note: Some drinks do not include a coaster.
The best part of the Pokemon Cafe is its "kawaii" (cute) style food.
The menu is in English, Korean, Japanese, Vietnamese and Mandarin Chinese. Seasonal dishes and drinks are available depending on when you visit.
During my visit, I ordered Gengar's smoothie, banana chocolate Mimikyu crepes, and the Pikachu plate lunch.
Gengar cup is for sale!
And here I leave you with Pokémon Cafe's Menu.
Unfortunately, the place isn't very vegetarian-friendly.
For vegetarians, besides desserts and drinks, everything has meat.
In terms of savory food, the only thing you could eat is carbonara, but you have to specify to the staff that you want it without ham.
Eevee and Pikachu's show
Throughout the day, Eevee will visit the Pokémon Cafe! According to one of the waitresses, Eevee appears between 6 to 8 times per day. There are no set schedules for the show, so keep your eyes peeled for this wandering performer.
Souvenirs
At the end of your visit, you can buy exclusive souvenirs of Pokemon. For example, plush, cups, plates, bags, and you can even purchase donuts of Eevee and Pikachu!
Review
All in all, it might only be worth going if you're a big fan of Pokemon.
I've done a lot of anime tourism in Tokyo, and there are other better spots and restaurants like Captain Tsubasa's restaurant.
In case you want to go, the best idea would be to order only one dish. There's lots of delicious food in Tokyo, like the Naruto Ramen, so I say save that valuable space in your stomach for something better.
Tips
You can only reserve a table through the official website. I suggest you have a reservation, but you might still get in without a one. Outside the place, there is a red-lined area for "same day admission." On weekdays it is very possible to get in without a reservation.
They accept reservations for a single person, up to a maximum of four people per booking.
When you arrive at the cafe you will be asked to show your reservation, a screenshot of the reservation email will be enough.
The menu is in English, and the staff speaks a bit of English so the language will not be a barrier.
You can't take the cup or plates the food is served with.
The staff usually has some Pokémon pins on their clothes. You can buy them at the Pokémon Center next door.
If you're a vegetarian, the carbonara dish is the only savory option available.
You'll be given 90 minutes in the cafe, and last order for food/dessert is 9:00, and 9:30 for drinks.
Smoking and pets aren't allowed.
The Pokémon center is on the same floor as the Pokémon Cafe.

It would be a good idea for you to go, keep in mind that the Pokemon Center closes at 9 pm.
At the Pokémon Center, if you are looking for a specific Pokémon and you want to ask some staff member if they have it, make sure you have a picture of the Pokémon on your smartphone. Pokémon have different names in Japanese so they will not understand you if you ask. For example, Squirtle in Japanese is Zenigame.
Access
The Pokemon Cafe is located in the east building of Takashima in Nihonbashi, Tokyo.
Nearest station: Nihonbashi exit B4.
If you want to use the JR pass, you need to go to Tokyo station and walk around 10 minutes to the restaurant.
Remember that it is located on the fifth floor.
Address: 〒103-0027 東京都中央区日本橋2丁目11−2 日本橋髙島屋S.C.東館 5階
Hours
10:30 am – 10:00 pm
Budget
2500 yen (22 USD)
The restaurant accepts credit card.
Estimated time
90 minutes
Close to
Anime attractions near the Pokémon center:
Akibahara (you need to take the train)
General Attractions:
By foot, the closest tourist place is the Imperial Palace (there are real-life locations from Sword Art Online there).
Another attraction close to Nihonbashi is Asakusa (8 minutes by train).
My recommendation is that you go to the Pokémon Cafe around 2:30 and eat a dessert there, visit the Pokémon Center, the real-life locations of Pyscho Pass and then go to Asakusa or Akihabara.
Thanks to deathtololicons for the feedback.