Captain Tsubasa Themed Restaurant
Today, I want to show you the restaurant themed after Captain Tsubasa!
The best part? This restaurant is decorated by Yoichi Takahashi himself, author of Captain Tsubasa.
Keep reading if you're a fan of Ooora Tsubasa and friends.
Description
In Katsushika, Tokyo (near Asakusa) you'll find a restaurant named Trattoria Avere.
This Italian restaurant is a favorite of the author of Captain Tsubasa, the mangaka Yoichi Takahashi. He drew Kojiro Hyuga, Genzo Wakabayashi, Ryo Ishizaki, among other characters from Captain Tsubasa on the walls of the restaurant.
What makes this place unique compared to other anime restaurants, is that the author himself did the decoration.
Aside from the drawings, you'll find photos and jerseys signed by the mangaka.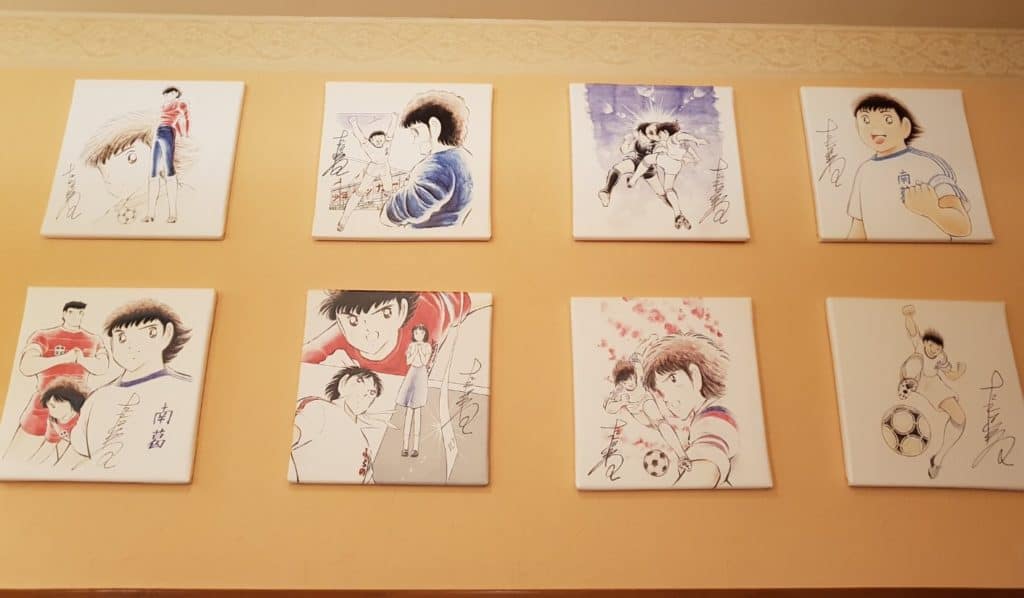 According to one of the staff of Trattoria Avere, Yoichi Takahashi comes by once every two weeks, so if you're lucky, you might even run into him.
For example, on July 28 last year, the restaurant made him a Captain Tsubasa cake to celebrate his birthday.
Note: Yoichi Takahashi doesn't own this Italian restaurant nor is the place managed by Shueisha's Weekly Jump magazine (owner of the rights of the Captain Tsubasa).
Bonus: Yoichi Takahashi's favorite team
In 2016, the mangaka visited the Camp Nou and said that his favorite team is FC Barcelona.
Also, during his visit, he drew Messi, Neymar, Iniesta, Suárez, and Piqué.
And if you were wondering, Iniesta is his favorite player.
Review
If you're a big fan of Captain Tsubasa and/or you are close to Asakusa, you have to visit this place.
The decoration of the restaurant is fantastic, the staff is friendly, and the food is good.
Also, the price-quality ratio is good as well.
When I went, my friend and I ordered pasta and pizza respectively, and we both liked the food.
By the way, the restaurant is vegetarian-friendly.
Tips
If you are on a tight budget at least ask for the pizza. It costs around 700 yen (6.5 USD) and you can have lunch where Takahashi has eaten!
That said, the pizza is quite small so just one might not be enough.
My biggest recommendation is to have dinner at Trattoria Avere after walking around the town of Captain Tsubasa.
Access
The Trattoria Avere is located near Keisei-Tateishi station.
Address: 1 Chome-14-9 Tateishi, Katsushika-ku, Tōkyō-to 124-0012
Hours
Lunch time: 11:30~15:00(last order 14:30)
Dinner time: 17:30~22:30(last order 21:30)
Estimated time
Between an hour and an hour & a half.
Budget
1,000 – 2,500 yen (8 USD – 23 USD)