Mob Psycho 100- Pilgrimage, Goods and More
Looking for something related to Mob Psycho 100 in Japan?
Keep reading 😀
In this post, I will tell you the location of popular places and landmarks featured in the animated series, as well as where to buy goods of Mob Psycho in Tokyo & more.
Everything that connects Mob Psycho with the real world is here.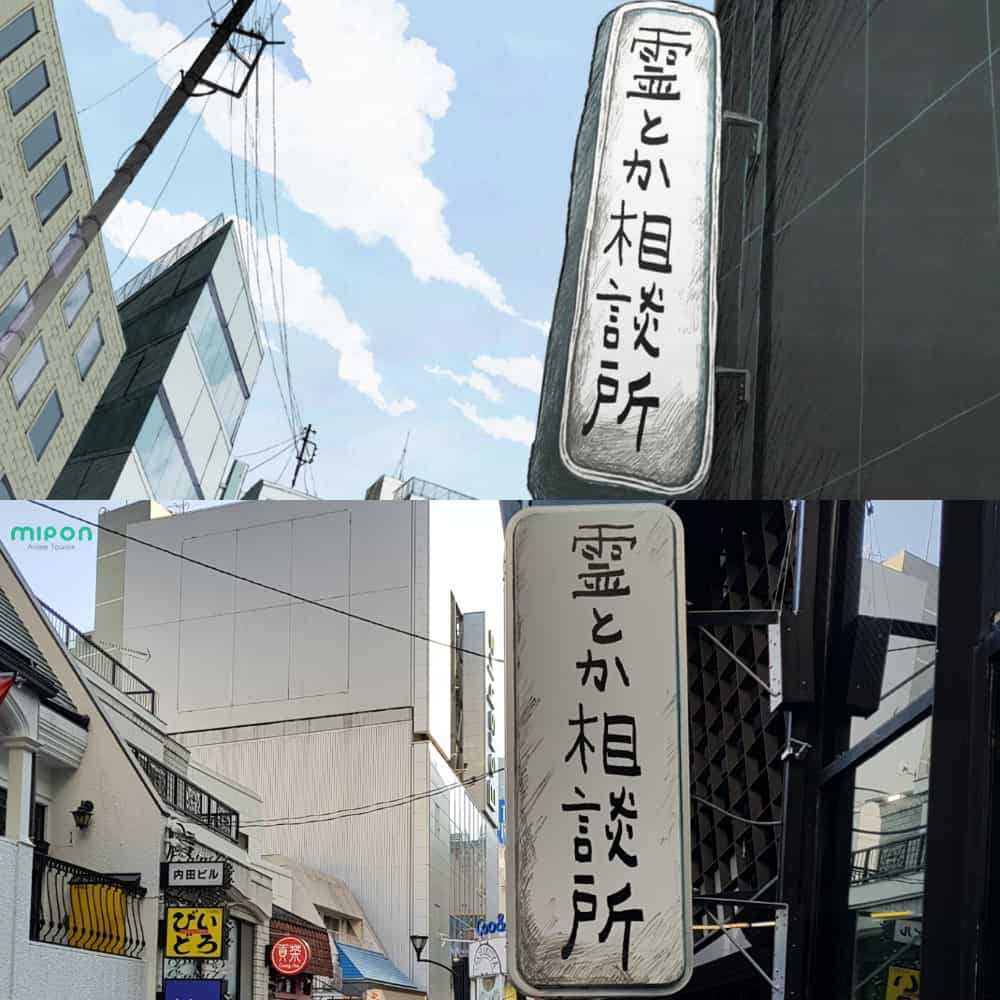 Real Life Locations (Anime Pilgrimage)
Created by ONE, the same author of One Punch Man, Mob Psycho 100 centers around Shigeo Kageyama.
Shigeo, nicknamed Mob, is an average middle school Japanese boy who is an unparalleled psychic with immense power.
Mob Psycho 100 takes place in Japan and there are real-life locations from the show that you can visit there. 
Mob Pyscho is one of the most popular animes in Japan, so if you haven't watched you need to!
Seasoning Station
At the end of episode 1 of season 1, Mob was waiting outside Seasoning Station for Reigen, the self-proclaimed psychic, to go have dinner together.
In real life, the name of the station is Fujimino Station, located in Saitama, which is around 45 to 60 minutes away from Tokyo.
If you are wondering what Shigeo and Reigen had for dinner that night, they ate chashumen ramen.
You can eat it at almost any ramen restaurant in Japan. You can ask for it like this:
チャーシュー麺をお願いします
Chashumen wo onegaishimas
Can I get chashumen?
Also, you can make it yourself. If you head to Google or Duckduckgo and search "chashumen ramen recipes" you will find a lot of articles and videos explaining how to make it.
Soyzerie Restaurant
In episode 1 of season 2, Ichi Mezato and the other members of the Psycho Helmet Cult were having a meeting in a family restaurant.
In the anime it's called Soyzerie but in real-life it's Saizeriya.
In case you want to eat there, Saizeriya is a popular family restaurant in Japan so you can find one very easily.
Guspo Restaurant
In episode 6 of season 2, Mob, the Body Improvement Club and Telepathy Club went for lunch at Guspo.
In the anime it's called Guspo but in real-life it's Gusto.
In case you want to eat there, Gusto is also a popular family restaurant in Japan so you should again be able to find one very easily.
After reading this section you might be thinking – hey Alfred, but it looks like there are more real-life locations in Japan, so why did you list only three in this article? 
I think so too, but no one has found more exact locations and posted them online. At least, I couldn't find them (I googled in Japanese too).
For example, I'm sure that the model that was used to created Mob's house and school exist somewhere in Japan.
I'll keep digging and updating this article very often, so if you know any other anime pilgrimage locations for Mob Psycho 100, let me know in the comments below.
Spirits and Such Consultation Office's website
In episode 2 of season 2, Reigen launched the official website for his business.
I was about to code the website myself but someone already did it 🙁
Spirits and Such Consultation Office's website
Mob Psycho 100's exhibition
In Febraury (from 2.14 to 2.25) a Mob Pyscho 100 exhibition took place in Shibuya.
The best thing about the exhibition was the sign of Spirits and Such Consultation Office outside the exhibition and the desk of Arataka Reigen.
If you miss the exhibition follow us on Instagram or Twitter we will post as soon as we know that there will be a new exhibition.
Mob Psycho 100 goods
You can find merch of Mob Psycho 100 in most anime stores in Japan. For example in Otome Road, Akihabara, etc.
If you are looking for a Mob Psycho T-shirt I wrote an article the other day telling you where you can find anime T-shirts.
I'll keep updating & adding to this post with more information about everything that you need to know about Mob Psycho 100 in Japan.
Keep checking back to this blog for new content and don't forget to follow me on Twitter and Instagram.
Now I'd like to hear from you:
Do you prefer Mob Psycho or One Punch Man? Who's your favorite character of Mob Psycho 100? 
What makes Mob Psycho better than One Punch Man?
Either way, let me know by leaving a quick comment below right now.